TRAFFIC helps train leading Chinese courier company in how to detect illegal wildlife trade
Fujian, China, April 2016—staff from a leading Chinese courier company, Shunfeng Express (SF-Express), earlier this month learned how to detect suspected illegal wildlife products during a training workshop held in collaboration with TRAFFIC.
---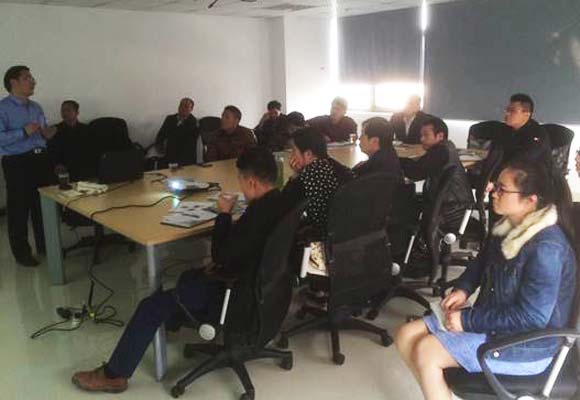 Managers of SF-Express's Putian Branch in Fujian province, who oversee the operations of more than 600 frontline couriers in Putian city, were among the 14 participants. 
SF-Express is one of the top courier companies in China with more than 230,000 staff and 23 cargo planes enabling the rapid, safe transfer of high-value products. 
"As a signatory to the pledge saying 'no' to illegal wildlife trade made by the logistics industry in 2015, SF-Express aspires to be a responsible company, which is why we invited TRAFFIC to help us train our staff. The knowledge gained will be rapidly disseminated," said Zhu Meng, Director of SF-Express's Putian Branch.
TRAFFIC staff spoke about Convention on International Trade in Endangered Species of Wild Fauna and Flora (CITES), regulations, China's domestic laws and the rise of online wildlife trade. 
TRAFFIC's monitoring had previously revealed the scale of wildlife trade through websites and social media platforms. In 2012, more than 4,000 advertisements were found on 31 monitored websites every month. Once deals have been settled, the products are sent by couriers from the dealers to buyers, putting the courier companies at risk of enabling illegal trade. 
"We have been aware that some customers are sending illegal wildlife products through our company but didn't know how to identify them. If the senders told us their products were plastic or resin, we had to trust them and take the parcel. This training is very timely and useful, we can now identify suspect items and refuse to transport them," said one of trainees.
"By abusing courier companies' services to carry out their illegal wildlife transactions, dealers aim to reduce their risks of detection and avoid punishment, a situation that needs to be addressed as soon as possible," said Zhou Fei, Head of TRAFFIC's China office. 
"TRAFFIC is pleased to help SF-Express raise their couriers' capacity to identify illegal wildlife products and we plan to assist SF-Express and other courier companies further through the production of species identification brochures and other materials." 
TRAFFIC's wildlife trade monitoring has identified Putian as a key regionfrom where illegal wildlife products such as ivory, rhino horn or hornbill casques are distributed across China. 
CEPF and WWF UK are thanked for their generous support for the work facilitating China's logistics industry to implement CITES regulations.
---