TRAFFIC and Tencent sign agreement to tackle illicit wildlife trade through social media networks
Cambridge, UK, 24th November 2015—TRAFFIC and Tencent, a leading provider of Internet value-added services in China, today signed a strategic Memorandum of Understanding (MoU) on tackling illegal wildlife trade carried out through WeChat and Tencent's other online platforms.
---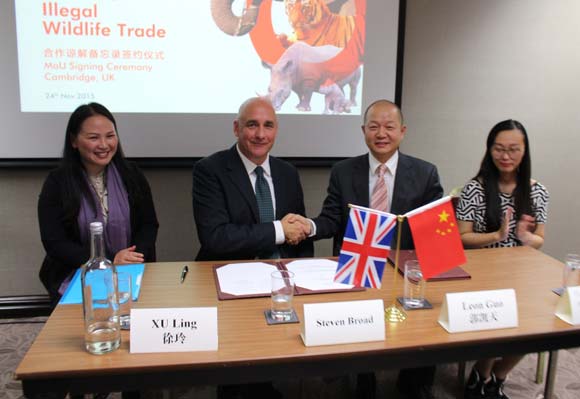 Under the terms of the MoU, the two organizations pledged zero tolerance towards the advertising and sale of illegal wildlife products on Tencent's platforms and agreed to work on public education and distribution of messaging to dissuade users from engaging in illegal wildlife trade. Creative messaging will be developed and distributed through online ads, apps and social media channels to influence users to refuse illicit wildlife parts and products. By the third quarter of 2015, WeChat had more than 650 million monthly active user accounts in China and abroad.
The organizations will also carry out online monitoring and information-sharing to enable effective actions to reduce illegal wildlife sales found on WeChat and Tencent's other online platforms.  
TRAFFIC will provide training and technical support to help Tencent staff identify illegal wildlife products sales offered online.
"Tencent operates the hugely popular WeChat platform and TRAFFIC is delighted with this collaboration," said Steven Broad, Executive Director of TRAFFIC. "We trust this new partnership will help ensure real progress is made with closing the critical gap that exists now in tackling online wildlife trafficking through social media."
 "We are pleased to engage in this important collaboration with TRAFFIC to explore innovative ways to protect endangered species together," said Kaitian Guo, Chairman of Tencent Charity Funds Council and Senior Vice President of Tencent. "Addressing this abuse of Tencent's services is a key element of our corporate social responsibility leading towards the creation of an ecological civilization."
Earlier this year, TRAFFIC's long-term study into online wildlife trafficking on the Chinese-language Internet, Moving targets: Tracking online sales of illegal wildlife products in China, revealed a shift away from e-commerce platforms into social network. Based on this finding, TRAFFIC recently started another monitoring programme targeting illegal ivory trade on WeChat.
The results of this monitoring work were publicly released today in a new report, Deadly Messaging: Illegal ivory trade in China's social media. Over a 13-week period, TRAFFIC documented how dealers using 58 active WeChat accounts were responsible for posting 10,650 advertisements, including 57,479 photos and 580 videos, for illegal ivory products.
Encouragingly, the number of illegal ivory advertisements plunged by 45% during the survey period, following government enforcement action and concerted efforts by Tencent to clamp down on malicious and illegal activities online. In the wake of these actions, TRAFFIC documented a number of dealers stating "the wind is too strong."
These actions had an immediate deterrent effect and curbed the illegal wildlife trade on Tencent's online platforms. However, the report also showed that illegal wildlife trade, especially trade on social networks, can easily revive. Illegal wildlife traders subsequently continued to abuse these platforms by setting up new accounts to avoid the risk of detection.
The report calls for close collaboration between Tencent and law enforcement agencies so as to ensure traders who advertise ivory and other endangered species products illegally through Wechat are identified and arrested. It also urges others in the trade chain, such as courier companies, to fulfill their role in detecting illegal products in transportation.
Demand for illegal wildlife products and the resulting poaching crisis are undermining global conservation efforts. TRAFFIC's analyses show that illegal trade in ivory increased by almost 300% from 1998 to 2011, while illegal rhino horn trade has now reached its highest levels since the early 1990s, with more than 1,215 rhinos poached in South Africa for their horns in 2014.
It is hoped that this agreement will allow TRAFFIC and Tencent to confront this crisis head on, integrating the resources and techniques used by both organisations, and strengthen cooperation on starving the supply of illegal wildlife products and reducing demand for illegal products on online platforms.
TRAFFIC's work on this project was generously funded by WWF International and the German Polifund project, implemented by the German Development Corporation GIZ on behalf of the German Federal Ministry for Economic Cooperation and Development (BMZ) and the German Federal Ministry for Environment, Nature Conservation, Building and Nuclear Safety (BMUB).
---