TRAFFIC and MINFOF: Strengthening ties against the trade of wild species in Cameroon
A cause for celebration as TRAFFIC Central Africa Office and the Ministry of Forestry and Wildlife (MINFOF) join forces against the trade of wild species in Cameroon with the official signing of a Memorandum of Understanding (MoU).
---
Sitting on the northwestern edge of the Congo Basin, Cameroon is home to a diverse range of wild species. But Cameroon's rich biodiversity is increasingly threatened by international demand that drives unsustainable and illegal harvesting. Threatened1 and soon-to-be CITES-listed African Mahogany trees Afzelia spp. and Khaya spp. crash to the ground to satisfy global timber supply chains, and staggering quantities of pangolin scales are smuggled overseas as a component of traditional medicine. Alongside this, while wild meat provides food security and income to many rural communities, the domestic bushmeat trade also poses the threat of overexploitation for many endemic species.
With this in mind, TRAFFIC was delighted to witness Denis Mahonghol, TRAFFIC Central Africa's Programme Office Director, shaking hands with the Minister of MINFOF in Cameroon, Jules Doret Ndongo, during the signing of an MoU. The agreement was signed on 4 July 2023 and will further facilitate the existing working relationship between both institutions and enhance future collaboration. The heads of many of Cameroon's international conservation NGOs and MINFOF's senior directors were in attendance.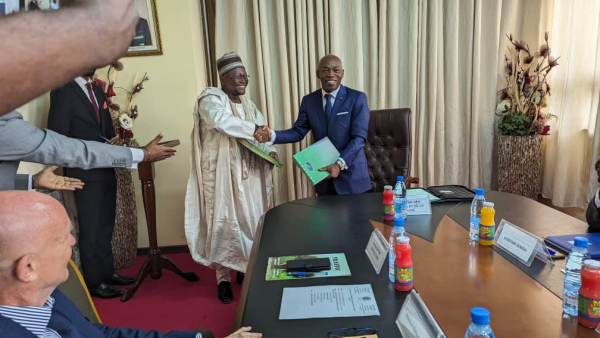 TRAFFIC and MINFOF have been in partnership since TRAFFIC's Central Africa Office opened in Yaoundé, Cameroon's capital, in 2008. Collaboration between MINFOF and TRAFFIC Central Africa has led to significant progress in conserving Cameroon's biodiversity, such as signing an agreement with the International Tropical Timber Organization (ITTO) to address illegal tropical timber trade, as well as developing long-term solutions to the issues presented by illicit bushmeat harvesting.
Partnership with MINFOF continues to support law enforcement training in Cameroon and is critical to curbing environmental crime and strengthening the country's capacity to enforce ever-evolving trade regulations such as CITES and integrate these at a national level.
The ceremony highlights a convergence of priorities between TRAFFIC's 2030 strategy and the Cameroon government's mandate to MINFOF through its 2030 National Development Strategy (SN2030). While TRAFFIC's new mission is to ensure that trade in wild species is legal and sustainable for the benefit of the planet and people, Cameroon's SN2030 values the conservation of its wild fauna and flora as natural reserves that can sustainably contribute to socio-economic development through employment and wealth generation for its people.
The signing of the MoU with the Ministry of Forestry and Wildlife should enable TRAFFIC to support the Cameroon Government in the forestry and wildlife sector, and more specifically in the revitalisation of several inter-ministerial committees, notably the CITES committee, and to contribute to the training and capacity building of its staff, to facilitate activities of mutual interest. It is also worth mentioning that this instrument will enable the exchange of data and information, while at the same time acting as an essential lever in the mobilisation of funding."
Denis Mahonghol, TRAFFIC Central Africa's Programme Office Director.With their goals aligned, 4 July 2023 marks a day of commemoration for TRAFFIC and MINFOF with aspirations of a brighter future for both the biodiversity and people of Cameroon.
---
Notes:
¹According to the IUCN Red List of Threatened Species™
---