Wild plant harvesters gain insights from a successful co-operative model in Viet Nam
Bac Kan, Viet Nam, January 2017—TRAFFIC is working to increase the capacity of collectors of wild medicinal and aromatic plants (MAPs) in Bac Kan Province to protect biodiversity and improve local livelihoods.  To achieve these outcomes, TRAFFIC, the Bac Kan Forest Protection Department (FPD) and two local pharmaceutical companies assisted the local harvesters to establish collector groups and cooperatives in Bac Kan. TRAFFIC is now expanding the knowledge of these collector organisations through training sessions and by learning from other successful models.
---
To gain insights on how successful and sustainable cooperatives operate, 16 participants from collector organisations and six Forest Protection Department (FPD) staff went on a visit to the company Sapa Napro in the Lao Cai Province in December.
Founded in 2006 by Mr. Ly Lao Lo, an ethnic Dao of Lao Cai Province, Sapa Napro processes and trades local cultivated MAPs to generate income for the cooperatives who work within the company. Locals of the province can become cooperative members by contributing money or resources. The revenue is then divided into three channels: 40-50 percent goes to reinvestment, 40-45 percent is distributed to cooperative members, and 10-15 percent is allotted to a community fund. This successful model is improving the livelihoods of cooperative members in Lao Cai province and promoting benefit-sharing mechanisms within their communities. Through their operations, they contribute to local economic growth and the conservation of provincial resources.
This trip was a great way to expand the knowledge of collectors in Bac Kan Province. We have been working with collectors to improve their livelihoods and ensure that wild MAP harvesting does not harm biodiversity. These collectors and FPD staff are learning about sustainable models that benefit the people who rely on plant species to make a living. They are now showing these techniques to their colleagues in Bac Kan 
Madelon Willemsen, Head of TRAFFIC in Viet Nam.
FPD staff learned ways to provide technical support to collector cooperatives and groups.  The wild MAPs collectors who went on the trip were able to do first-hand observations of cooperatives that work for Sapa Napro to see how they negotiate and improve their access to the market.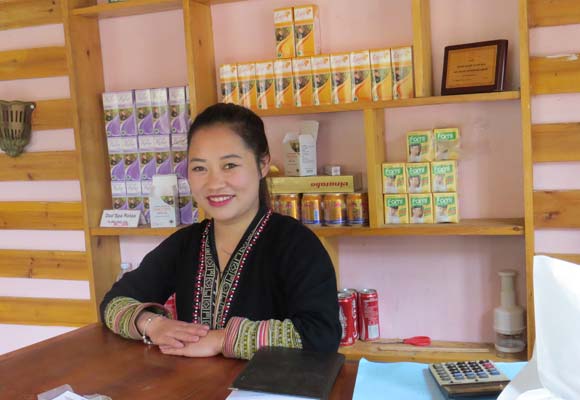 Participants expanded their knowledge on marketing through different channels and via face-to-face interactions with pharmacists. They also learned how to expand and maintain membership in their cooperatives and collector groups. Sapa Napro and the collectors in Bac Kan province discussed the challenges of retaining members in their cooperatives and groups. They discussed how to increase member retention by illustrating the benefits of working together and creating a community fund to use in their localities.
The head of Xuan Lac Cooperative, Mr. Nong Van Huong said, "I think this event was a good opportunity to exchange our experiences in MAP wild-collection and the lessons learned from business operations.  We can see similarities between the workings of this company and how our cooperatives and groups are run. I think this trip will improve how we conduct our operations and increase market access for Jiaogulan and other products."
With funding from the Darwin Initiative, TRAFFIC is giving collectors in Bac Kan Province the know-how and experience to improve their livelihoods and preserve local biodiversity. This trip is a unique way of showing wild MAP collectors how they can benefit from cooperative action and sustainable management of plant species.  The trip was made possible through the Darwin Initiative project "Enhancing management and benefit flows in Vietnam's wild medicinal plant products", funded by the UK government. TRAFFIC supports the MAPs wild-collectors in Bac Kan with know-how and skills development to improve their livelihoods and preserve local biodiversity.
---
About the Darwin Initiative
Funded by the UK Government through the Darwin Initiative.
The Darwin Initiative is a UK government programme with a focus on biodiversity projects.