South African Freight Forwarders Recognise Opportunities to Combat Wildlife Trafficking in Supply Chains at SAAFF Congress 2018
Cape Town, South Africa, 3rd September 2018—TRAFFIC through the USAID Wildlife TRAPS (Wildlife Trafficking, Response, Assessment and Priority Setting) project participated in the South African Association of Freight Forwarders (SAAFF) 2018 Congress in Cape Town last week. Freight forwarding plays an essential role in international trade, but the industry is also exploited by wildlife traffickers to move illegal shipments across the globe.
---
During the two-day Congress, TRAFFIC provided attendees with information, materials and resources for taking action on the ground to stay free from unwittingly transporting illegal wildlife products.  Wildlife TRAPS Project Lead Nick Ahlers also presented an overview of the scale and trends on wildlife trafficking and how the freight sector can help prevent it, detect it and report it. 
"We are thrilled to work with TRAFFIC to raise awareness of how we, freight forwarders can protect our supply chains from wildlife trafficking. SAAFF member companies manage over 80% of South Africa's international trade and together we have the opportunity to spearhead solutions that will protect this country's wildlife for generations to come," said Margarett Ann Kaiser, Executive Assistant with the South African Association of Freight Forwarders.
Wildlife is an essential part South Africa's natural heritage, but the poaching and trafficking of wildlife and wildlife products from South Africa to markets around the world poses an immediate threat to species' survival, supply chain security, and local economies and communities. There are a number of practical steps that freight companies can take to strengthen their businesses against wildlife trafficking and help authorities to stop wildlife crimes
Nick Ahlers, TRAFFIC's Wildlife TRAPS project Leader.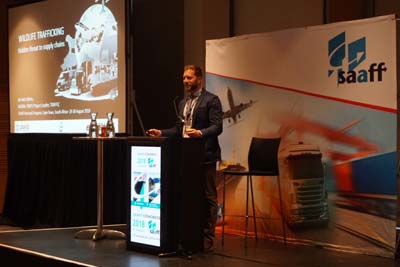 The biennial SAAFF Congress brings together the freight forwarding and customs-clearing industry as well as government departments and institutions responsible for matters such as customs, ports, health and safety, border control, cargo handling, security at terminals and airports, and road legislation. Next year, SAAFF will host the 2019 World Congress of the International Federation of Freight Forwarder Associations (FIATA) in Cape Town, bringing together over a thousand industry members and delegates worldwide. Last year, FIATA included illegal wildlife trade as one of the topics of the minimum standards to obtain the FIATA Diploma for freight forwarding.  
South Africa ranks eighth globally in wildlife trafficking instances through the air transport sector, and in recent years has been on the front lines of many large-scale illegal wildlife seizures, intercepting shipments of rhino horn, ivory, and pangolin scales, among other commonly traded wildlife products. In 2017 wildlife trafficking seizures of rhino horn in air transport exploded, increasing three-fold from the year before. South Africa is the most common origin country for illegally transported rhino horn. 
Many in the transportation sector are recognising the need to take action against wildlife trafficking. Recently, Etihad developed a new 20-minute online module designed to inform its employees of the business risks associated with the illegal wildlife trade and ways to prevent them. The module is available to anyone in the industry for readaptation. 
---
About Wildlife TRAPS
The USAID-funded Wildlife Trafficking, Response, Assessment and Priority Setting (Wildlife TRAPS) Project is an initiative that is designed to secure a transformation in the level of co-operation between an international community of stakeholders who are impacted by illegal wildlife trade between Africa and Asia. The project is designed to increase understanding of the true character and scale of the response required, to set priorities, identify intervention points, and test non-traditional approaches with project partners.
About USAID

The United States Agency for International Development (USAID) is responsible for the majority of overseas development assistance from the United States Government and works to end extreme poverty and promote resilient, democratic societies while advancing security and prosperity for America and the world
About TRAFFIC

TRAFFIC is a leading non-governmental organisation working globally on trade in wild animals and plants in the context of both biodiversity conservation and sustainable development whose mission is to ensure that trade in wild plants and animals is not a threat to the conservation of nature. More information at www.traffic.org
About SAAFF
SAAFF was formed in 1921 and is a national association with members throughout the Republic of South Africa. While it attends to matters of national interest, its constitution permits regions to form chapters of the association, to deal with local issues. For more information, visit www.saaff.or.za