Solid backing for timber at CITES
Johannesburg, South Africa, October 2016—world governments currently meeting in Johannesburg have strongly backed the introduction of stronger measures to protect commercially traded timber species.
---
Delegates to the 17th Conference to the Parties to the Convention on International Trade in Endangered Species of Wild Fauna and Flora (CITES CoP17) voted to list the entire Dalbergia genus within Appendix II of the Convention as well as three species of Guibourtia from Central Africa and Pterocarpus erinaceus from West Africa. 
The Appendix II listings mean control measures will be put in place to control commercial international trade in the species.
The genus Dalbergia is large and widespread, comprising plants of many different forms: some species produce high quality and sought-after timber, some of which are traded as "rosewood" or exported to China as Hongmu ("redwood") timber used for furniture-making. Currently only a few Dalbergia species are listed under CITES and although a listing of the entire genus will still need reliably to distinguish between the various species of Dalbergia it will help to eliminate much of the enforcement challenges and difficulties associated with lookalike species.
The three Guibourtia species are traded internationally as under the name Bubinga and are used as a substitute for Hongmu timbers in China. The market for them has grown very rapidly in Asia, particularly China, in recent years and there are indications of significant illegal harvest and trade. TRAFFIC assisted in the development of a CITES listing proposal for Bubinga following a study into the trade, the results of which were discussed with range States and relevant stakeholders. 
Pterocarpus erinaceus is widely used both locally and exported as Hongmu. The heartwood is highly prized and can only be found in trees above a certain diameter class that are targeted, potentially leading to commercial extinction of the species.
"The previous CITES meeting became known for the one where marine species became mainstream for the Convention: this time it's the turn of commercially traded timber species," said Denis Mahonghol, a Forest & Trade Officer with TRAFFIC based in Cameroon.
The Appendix II listings will come into force if they are formally adopted during the plenary session of CoP17 which takes place later this week.
---
About CITES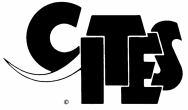 CITES, the Convention on the International Trade of Endangered Species of Wild Fauna and Flora, is an international agreement between governments that aims to ensure that international trade in specimens of wild animals and plants does not threaten their survival. Find out more here.