Six new champions join the fray to combat illegal wildlife trafficking
Furama Resort, Da Nang, Viet Nam, 18th August 2016—Representatives from six enterprises who learned about the impact of wildlife crime on business today pledged to integrate corporate social responsibility (CSR) policies to create zero-tolerance to illegal wildlife trade, particularly rhino horn.  
---
Continuing a strong partnership to enhance the capacity for Vietnamese businesses to eliminate illegal wildlife trade, the workshop was held in Da Nang by TRAFFIC and the Da Nang Branch of the Vietnam Chamber of Commerce and Industry (VCCI). The training was attended by representatives from Furama Resort, Forest Products Export JSC of Quang Nam, the Da Nang Branch of Kien Long Commercial Joint Stock Bank, Hoa Tho Textile – Garment JSC, Vietnam Travel Mart JSC and Saigon Ship JSC.
Our research tells us that the most prolific consumers of rhino horn are the urban businessmen and employees of profitable enterprises
Madelon Willemsen, Head of TRAFFIC's Viet Nam Office
"These six enterprises have taken a strong stand against wildlife crime by establishing CSR practices and committing to zero-tolerance towards the consumption of rhino horn and other endangered species in their organizations. These influential businesses are to be congratulated for showing how the Vietnamese business community can enhance its reputation and combat wildlife crime at the same time."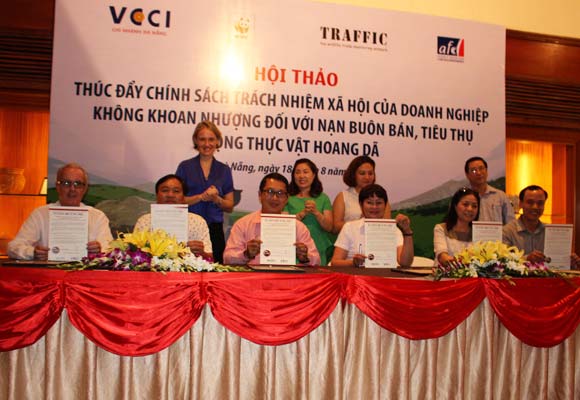 The attendees received in-depth knowledge on wildlife crime and consumption in Viet Nam and learned about behaviour change initiatives.  Participants learned about the importance of preventing species extinctions and had the opportunity to see the threatened Red-Shanked Douc Langur during a field visit to Son Tra Island facilitated by local NGO GreenViet. 
Furama Resort is looking forward to helping combat wildlife trafficking, "Our resort has proudly supported people in need with our various community programs. We are eager to continue giving back to the world by also focusing our energy on conserving the biodiversity of the planet. This workshop is giving us a much better understanding of the need for organizations like ours to champion the cause of conservation so we can positively affect change," said Mr. Matthias Wiesmann, General Director of Furama Resort. 
With funding from the French Development Agency, TRAFFIC has been working to combat wildlife crime through a demand reduction programme in Viet Nam.  Demand for products such as rhino horn in Viet Nam and other Asian countries is driving the poaching crisis in Africa. Through the Chi initiative, TRAFFIC and VCCI are creating a culture of zero-tolerance towards wildlife trafficking in the business world by finding Vietnamese businesses who will lead their peers in fighting wildlife crime. 
Deputy Director of VCCI Da Nang, Ms. Truong Thi Kim Anh said, "VCCI Da Nang is glad that these six enterprises have pledged to become new champions who are joining the fray to combat wildlife trafficking. After the workshop, these six enterprises will use the Chi images to spread further the message and engage their customers and workforces. These businesses will also create a code of conduct for their employees to follow to ensure that they do not consume threatened wildlife."
---
About VCCI
The Vietnam Chamber of Commerce and Industry (VCCI) is an organization that represents and protects legitimate benefits of business communities. VCCI has a network of branches, representing offices and members nationwide.