Wildlife Justice Commission holds public hearing on trafficking case in Viet Nam
The Hague, Netherlands, 17th November 2016—A high-level independent panel of criminal justice and corruption experts has published its findings and recommendations following a public hearing held at the Peace Palace in The Hague, where evidence gathered by the Wildlife Justice Commission (WJC) into wildlife trafficking activities in Viet Nam was presented.
---
Evidence compiled during a year-long investigation into the wildlife trafficking hub of Nhi Khe, just 20 km outside of the capital city, Ha Noi, had earlier been presented in a "map of facts" to Vietnamese authorities in January 2016 and supplemented with updated information in August 2016.  This illuminated the activities of a network of suspects operating within Viet Nam and across the border in China with undercover footage, trading observations and details of financial flows and bank accounts.  In total 51 individuals had been identified who, it was claimed, operated transnationally and with impunity, dealing in rhino, elephant, tiger and other endangered species both via shops and social media.
Despite extensive communication effort from WJC to the Vietnamese government during 2016, very little action appeared to be taken, with only one known recent arrest as a consequence of the findings presented.  The WJC public hearing was therefore convened earlier this week to validate the facts and formulate recommendations on how best to activate justice as encouragement for action by the government of Viet Nam.
During the two-day hearing, a number of expert witnesses were called upon, including TRAFFIC's Tom Milliken who answered questions on global dimensions of the illegal ivory and rhino horn trades and on details of trade and demand within Viet Nam and China.
"The apparent lack of a significant response from the authorities in Viet Nam is very disappointing given the large body of evidence compiled by WJC investigators, including undercover footage and conversations with some of the chief suspects identified in the maps of facts," said Steven Broad, TRAFFIC's Executive Director, who had the opportunity to provide a commentary to the panel, which concluded by unanimously validating the investigation findings. 
Unsurprisingly, first amongst the panel's 16 recommendations was that the Vietnamese authorities make full use of the map of facts information and carry out a thorough investigation into the suspects identified and their criminal enterprises including their tax law violations and money laundering activities. 
Other recommendations included improving national and international enforcement agency collaboration; the introduction of anti-corruption measures; establishment of witness protection programmes; enhanced monitoring for illegal activities conducted through social media channels; and introduction of enhanced investigative techniques, in particular controlled deliveries. 
The panel also called upon the authorities to ensure Viet Nam's revised Penal Code was implemented and urged that the country carry out its obligations under several international conventions in order to avoid negative consequences.
The Viet Nam government's response to the proceedings this week in The Hague are keenly anticipated, while the independent panel's comprehensive recommendations will provide a solid foundation for future deliberations in the international arena
Steven Broad, Executive Director, TRAFFIC
Viet Nam is currently hosting the Ha Noi Conference on Illegal Wildlife Trade, where governments from around 50 countries are meeting to review their commitments made to address wildlife crime. 
"This week's Ha Noi meeting is the ideal stage for Viet Nam to demonstrate to the world that it really is serious about addressing wildlife crime—effective action, reflected in arrests and successful prosecutions, based on the information given to them through WJC's map of facts would be a good starting point," said Broad. 
The WJC hearing's panel comprised: Prof. Edgardo Buscaglia, an expert on economic analysis of complex crimes; Misha Glenny, an award-winning journalist and historian; Justice Philippe Kirsch, Former President of the International Criminal Court in The Hague; Justice Isaac Lenaola, Presiding Judge of the Constitution and Human Rights Division of the High Court of Kenya; and Diego García-Sayán, former Minister of Justice of Peru.
---
About Wildlife Justice Commission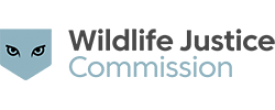 Our mission is to help disrupt transnational organised wildlife crime by exposing criminal networks and the corruption that enables them to flourish by empowering – or, if need be, pressuring –  governments to enforce their laws.