Prosecutors in East Africa set their sights on wildlife criminals
New digital tools aim to strengthen prosecution and enhance regional collaboration to combat transnational wildlife crimes.
---
Tanzania, 16 August 2021 - A dedicated online platform to support East African prosecutors' investigations, enforcement and cooperation to crack down on wildlife crime officially launches today.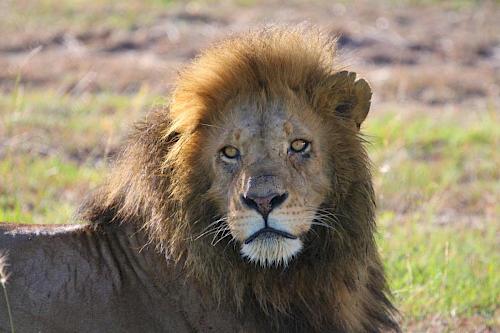 East Africa is a wildlife trafficking hotspot. The region's rich biodiversity and international transport links make it an ideal poaching ground and a key transit route for international wildlife trafficking.
As part of a coordinated response to conservation and development threats caused by organised criminal activity, TRAFFIC is working with the East Africa Association of Prosecutors (EAAP) to strengthen awareness and prosecutorial capacity for combatting wildlife crime in the region.
Wildlife crime poses serious threats to the conservation of biodiversity through its impacts on ecosystems and species. This also directly affects local and national economies. The EAAP website and online course are  dynamic tools that will improve regional and bilateral collaboration on the enforcement and prosecution of wildlife crime."
Julie Thomson, Director, TRAFFIC East Africa
The EAAP is an association of National Prosecution Authorities of East Africa (Kenya, Uganda, Tanzania, Rwanda, Burundi, and South Sudan), launched in 2010. Its core function is to address a sustained growth in serious transnational crime in the region through promoting the rule of law and improving regional cooperation.
Alongside microsites on human trafficking, gender-based violence, corruption, financial crimes, and counter-terrorism, the website now includes a platform dedicated to environmental and wildlife crime to help foster collaboration between prosecutors involved in international cases.
The EAAP website is a secure portal for prosecutors to vibrantly engage and learn from each other, including via the hosting of webinars and other training resources for daily use by our growing number of prosecutors. It has the potential to support collaborative efforts to investigate and prosecute transnational wildlife crimes. I urge all prosecutors in the region to embrace this tool and continuously contribute to it as a positive space for cooperation and knowledge sharing."
Director of Public Prosecutions (DPP) -Tanzania & EAAP President
In addition to member-only portals for sharing insight and case information, the website includes specialised training resources, such as a newly launched online course "enhancing Capacity of Prosecutors in Combatting Wildlife Crime." It is a restricted, self-paced resource to provide East African prosecutors with region-specific information on legislation, processes, and criminal modus operandi related to wildlife crime.
"Working with prosecutors on the frontline of wildlife crime is a crucial step in countering the organised criminal networks threatening the wellbeing of our environment and communities. The EAAP website is another tool in the arsenal facing these threats head-on. We welcome all prosecutors in East Africa to use this vital asset to ensure greater success for wildlife crime prosecutions," said Jamal Juma, EAAP Forum Coordinator, TRAFFIC East Africa.
---
Notes:
The e-course was designed by TRAFFIC's East Africa office in collaboration with the EAAP, through the support of the German government's Partnership against Poaching and Illegal Wildlife Trade (in Africa and Asia), implemented by GIZ on behalf of the German Federal Ministry for Economic Cooperation and Development (BMZ) and the German Federal Ministry for Environment, Nature Conservation and Nuclear Safety (BMU).
CONNECT is a four-year project implemented by IUCN with WWF and TRAFFIC, aimed at strengthening the conservation and management of natural resources shared by East African countries. Through this project, TRAFFIC East Africa supports the EAAP to establish and coordinate a Forum for Wildlife Crime Prosecutors in the region and assist its Secretariat as it works to foster cooperation among the region's national prosecuting authorities.
---
About GIZ
GIZ on behalf of the German Federal Ministry for Economic Cooperation and Development (BMZ) and the German Federal Ministry for the Environment, Nature Conservation and Nuclear Safety (BMUZ) supports international cooperation for sustainable development and international education work to shaping a future worth living around the world. www.giz.de
About IUCN

The International Union for Conservation of Nature (IUCN) is a membership Union uniquely composed of both government and civil society organisations. It provides public, private and non-governmental organisations with the knowledge and tools that enable human progress, economic development and nature conservation to take place together. For more information visit: iucn.org
WWF

WWF is an independent conservation organization, with over 30 million supporters and a global network active in over 100 countries. WWF's mission is to stop the degradation of the Earth's natural environment and to build a future in which humans live in harmony with nature, by conserving the world's biological diversity, ensuring that the use of renewable natural resources is sustainable, and promoting the reduction of pollution and wasteful consumption. Visit www.panda.org/news for the latest news and media resources and follow us on Twitter @WWF_media.