Namibian enforcement officers learn why wildlife crime matters
Windhoek, Namibia, September 2018—Investigators, prosecutors, and magistrates attended a workshop this month to enhance their skills in investigating and applying appropriate penalties to wildlife crime cases. The workshop falls under the USAID-supported Combatting Wildlife Crime Project (CWCP) in the Namibia and the Kavango-Zambezi region (KAZA).
---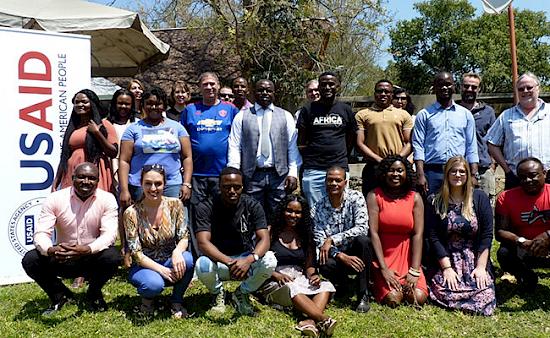 The workshop was hosted by the Legal Assistance Centre (LAC) and included topics such as new online investigation techniques and current online trends in modus operandi of wildlife criminals, while staff from TRAFFIC spoke about global and national trends in legal and illegal wildlife trade, and the Convention on the International Trade in Endangered Species of Wild Fauna and Flora (CITES).
TRAFFIC also used a practical session to highlight the typical structure of a wildlife criminal syndicate through examination of one involved in abalone poaching and smuggling in South Africa. Another practical session during the meeting involved enactment of a vehicle search for wildlife contraband.
The meeting was the second in a series held by LAC under the CWCP, which over the coming years aims to build the capacity of members from the criminal justice systems engaged in tackling wildlife crime in the five countries of the KAZA, namely Angola, Botswana, Namibia, Zambia and Zimbabwe.
Under the project, TRAFFIC provides training, awareness and information resources on illegal wildlife trade, with a focus on elephant and rhino species. The overall project comprises 14 consortium partners with WWF Namibia as the prime. TRAFFIC would like to thank LAC for including us in this workshop and for all their effort in making the workshop a success!
---
Notes:
For more information on TRAFFIC's work under the CWCP, please contact Dominique Prinsloo at Enable JavaScript to view protected content..
Visit the Combatting Wildlife Crime Project page for more.
---
About WWF Namibia Zambia Zimbabwe

World Wide Fund for Nature (WWF). WWF is one of the world's largest and most respected independent conservation organisations.