More champions combating Illegal Wildlife Trafficking
Hanoi, Viet Nam, 23rd May 2017—Private sector representatives learned about the impact of wildlife crime on business and the economy and pledged to integrate zero-tolerance of threatened wildlife consumption into their corporate social responsibility (CSR) policies during a meeting held this week in Hanoi. 
 
---
Representatives from ARTEX Production, an import-export fine arts company; Manulife Viet Nam; Son Ha Commerce and Investment Joint Stock Company; TRIBECO Company; Huu Thang Import-Export Company; and organizations such as the Association of fine arts companies; WE CREATE programme and others joined the tens of thousands of individuals in Viet Nam and beyond who are taking a stand against the consumption of threatened wildlife, such as rhino horn.

With funding from Save the Rhino International, the CSR workshop was held by TRAFFIC and the Vietnam Chamber of Commerce and Industry (VCCI), a civil society organization and a powerful ally in TRAFFIC's work in Viet Nam since 2015. 

Research by TRAFFIC has found that the most prolific consumers of rhino horn in Viet Nam are wealthy urban men and women who often own or work for profitable businesses. The partnerships with VCCI and other civil society organizations are key to engage leaders who can positively influence their peers.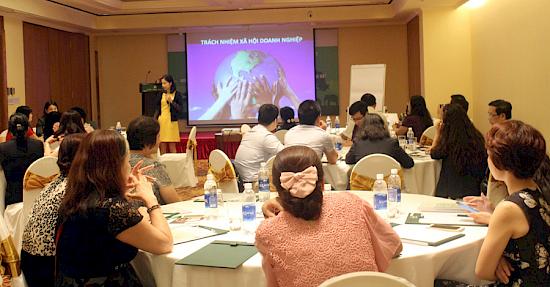 "We want to foster a movement where companies establish CSR practices and commit to zero-tolerance towards the consumption of rhino horn and other endangered species," said Madelon Willemsen, Head of TRAFFIC's Viet Nam Office. 

"These influential companies are showing how the Vietnamese business community can enhance its reputation and oppose wildlife trafficking at the same time." 

Meeting attendees received in-depth knowledge about wildlife crime and consumption in Viet Nam and learned about behaviour change initiatives and the role wildlife trafficking has in global criminal activity.

TRAFFIC has been working with civil society organizations such as VCCI to combat wildlife crime through a demand reduction programme in Viet Nam. 

Demand for products such as rhino horn in Viet Nam and other Asian countries is driving the poaching crisis in Africa. Through the Chi initiative, TRAFFIC and VCCI are creating a culture of zero-tolerance towards wildlife trafficking in the business world by finding Vietnamese businesses who will lead their peers in fighting wildlife crime.

Deputy Director of SME Promotion Center, VCCI, Ms Le Thi Thu Thuy said, "VCCI is glad that these five enterprises have pledged to become new champions joining the fray to combat wildlife trafficking. After the workshop, these five enterprises will spread the Chi messaging further and engage their customers and workforces. These businesses will also create a code of conduct for their employees to follow to ensure that they do not consume threatened wildlife." 
---