Mitigating the Markets for Illegal Wildlife Products: Experts review effective demand reduction messengers and messaging
Bangkok, Thailand, 17 August 2018—An interdisciplinary group of approximately 40 Social and Behavioural Change experts convened in Bangkok this week for a two-day Roundtable on demand reduction messengers and messaging. The event was organized by TRAFFIC through the USAID Wildlife TRAPS (Wildlife Trafficking, Response, Assessment and Priority Setting) project in coordination with USAID Wildlife Asia. Outputs are informing the development of best practice guidelines for the SBCC (Social and Behaviour Change Communications) Community of Practice.
---
During the roundtable discussions, the attendees shared insights around the use of messengers and messaging to change behavior for conservation results; identified important qualities, properties, framing and character attributes for maximising impacts of messengers and messaging; and highlighted knowledge gaps for further research.
The conservation community is increasingly looking to behavioural science to help reduce the demand for illegal wildlife products. With such a rich body of research, insight, and evidence of success from other fields, we were delighted to bring together this group and their deep pool of expertise for this meeting. This will really ensure the Good Practice Guidelines are actionable, practical and authoritative
Gayle Burgess, Behavioural Change Co-ordinator for TRAFFIC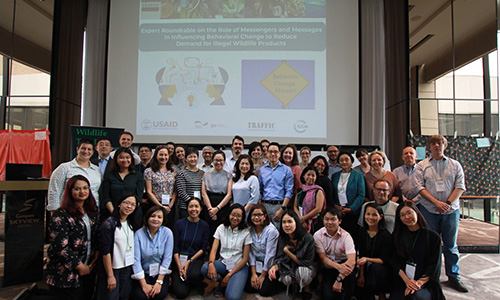 "Well-targeted messages and effective messengers are among the best means to reach out to both the general public and consumers of illegally-sourced wild animals and plants to raise awareness and to achieve behaviour change. We're working with TRAFFIC to identify best practices and challenges experienced by CITES Parties in their development and implementation of long-term demand reduction strategies or programmes to combat trafficking in wildlife. The very rich insight, expertise, and experiences shared by the communications experts at the roundtable this week on best practices in messengers and messaging will contribute to the development of some guidelines for CITES Parties to develop their strategies to reduce demand for illegally-sourced wildlife," said Liu Yuan of the CITES Secretariat who leads communications and demand reduction at the CITES Secretariat.
"Addressing the demand of products sourced from wildlife and endangered animals is a quintessential problem that needs an ecosystem of solutions. These range from regulatory to advocacy to communication to alternative solutions, engaging from the individual to community to societal level. Success depends on involving multiple stakeholders, including the end user in co-creating solutions, such that we highlight the barriers of the current behaviour and enhance the benefits of the desired behaviour," said Dr Sameer Deshpande, Associate Professor of Social Marketing and Deputy Director of Social marketing at Griffith University.
The participants in the discussions included experts from organisations representing leading lights in behavioural science research, IGOs such as the CITES Secretariat, global health consultancies, and private sector media and advertising, as well as NGOs and the IUCN Commission on Education and Communication. Each attendee was invited based on their relevant experience in behavioural science, social and behaviour change communications, and social marketing.
The outputs arising from the roundtable discussions will be used to inform the development of two new guidelines on the effectiveness of messaging and messengers. Both documents will be posted on the Wildlife Behaviour Change Toolkit ( www.changewildlifeconsumers.org )
These guidelines are part of the larger, "Good Practice Guidelines" set to support the Social and Behaviour Change Communication (SBCC) Community of Practice in delivering demand reduction campaigns
---
About Wildlife TRAPS
The USAID-funded Wildlife Trafficking, Response, Assessment and Priority Setting (Wildlife TRAPS) Project is an initiative that is designed to secure a transformation in the level of co-operation between an international community of stakeholders who are impacted by illegal wildlife trade between Africa and Asia. The project is designed to increase understanding of the true character and scale of the response required, to set priorities, identify intervention points, and test non-traditional approaches with project partners.
About USAID

The United States Agency for International Development (USAID) is responsible for the majority of overseas development assistance from the United States Government and works to end extreme poverty and promote resilient, democratic societies while advancing security and prosperity for America and the world