Mexico's wildlife directorate receives equipment donation from TRAFFIC
Guanajuato, México—The General Director of Wildlife of the Secretariat of Environment and Natural Resources (SEMARNAT), Martín Vargas Prieto, received a donation of specialist wildlife handling equipment from Adrián Reuter of TRAFFIC during an event that took place in Cuenca de la Esperanza, Guanajuato, last week. 
---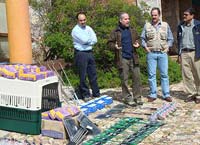 The handover took place during a training workshop on conservation and sustainable use of wildlife organised jointly by TRAFFIC, the DGVS / SEMARNAT and Guanajuato State's Ecology Institute and nincluded specialised equipment for the transporation of wildlife and the safe handling of specimens, among them transport boxes, leather gloves, special sticks for handling snakes, etc. 
The equipment will now be sent to the Conservation Center and Wildlife Research (CIVS) whose functions include receiving, harbouring and rehabilitating specimens confiscated in the country in order to reintroduce them to the wild if possible.
This donation was part of a three-year project, led by TRAFFIC, with funding from the UK Government's Strategic Programmes Fund to support the development of materials and training for wildlife officers in Mexico..
---