Meeting to plug gaps in porous Indo-Nepal border
New Delhi, India, 16th July 2012—the SSB, a border guard force under the administrative control of the Ministry of Home Affairs, recently concluded a two-day workshop in association with TRAFFIC in India on "Strengthening Wildlife Law Enforcement and Conservation along borders" for officials based in Gorakhpur, Uttar Pradesh, who guard the Indian border with Nepal.
---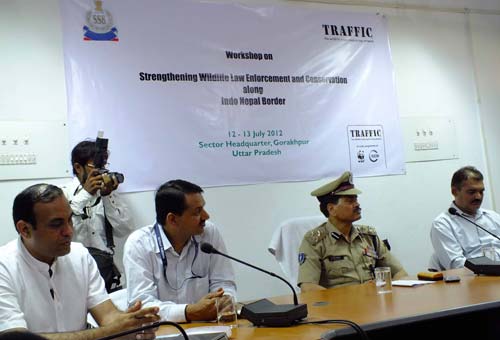 The porous Indo-Nepal border is exploited by illegal wildlife traders to smuggle their contraband including Tiger, Leopard and otter parts, rhino horn, Red Sanders, ivory, bear bile, live birds and even live elephants into Nepal from where they are onward distributed. 
The workshop was part of a collaboration between the Sashastra Seema Bal (SSB) and TRAFFIC in India to strengthen enforcement efforts along India's borders to fight wildlife crime and curb illegal wildlife trade. 
The SSB is charged with guarding the 1,751 km Indo-Nepal border along the states of Uttaranchal, Uttar Pradesh, Bihar, West Bengal and Sikkim and the stretch of the Indo-Bhutan border along the states of Sikkim, West Bengal, Assam and, Arunachal Pradesh.
Delegates included 30 SSB officers plus officials from the forestry divisions of Balrampur, Saravasti, Maharajgunj and Suhelwa Wildlife Sanctuary.  
They were provided with resources including books, posters, CDs, papers on themes pertaining to wildlife law and enforcement issues and a wildlife forensics sample collection kit developed jointly by Wildlife Institute of India and TRAFFIC. The customized kit enables field staff to collect samples for forensic analysis. 
Participants also received ivory identification kits, which enable samples to be quickly tested to confirm whether they are ivory or not. 
Mr R.S. Shekhawat, Deputy Inspector General of SSB inaugurated the meeting. He spoke of the collaboration between SSB and TRAFFIC and of the opportunity for SSB officers to acquire new skills for combating illicit wildlife trade, in particular for tackling organized wildlife crime. 
Other speakers included Dr GK Goswami, Deputy Inspector General of Police, currently on deputation to the United Nations Office of Drug and Crime (UNODC) based in New Delhi; Mr AK Jha, Assistant Director of WCCB (Wildlife Crime Control Bureau); Mr MKS Pasha–Associate Director, TRAFFIC India; Dr SP Goyal-wildlife forensic expert from the Wildlife Institute of India; and Brigadier R S Talwar (Retd), an expert on surveillance techniques, crime scene searches and the modus operandi of wildlife crime. Also present was Mr Saurabh Sharma—Advocate from the Delhi High Court of India, who spoke about the laws and legislation governing wildlife trade, and bird trade expert Mr Abrar Ahmed, a consultant with TRAFFIC India.
Six more workshops are planned under the SSB collaboration with TRAFFIC, focusing on assisting officers who guard the Indo-Nepal and Indo-Bhutan borders. 
---