Massive ivory seizure in Viet Nam
Hanoi, Viet Nam, 9th March 2009—Customs officers in Viet Nam's northern port of Hai Phong have seized a huge consignment of more than 6 tonnes of elephant ivory, according to government sources. Vietnamese officials have described the seizure as "the biggest ivory haul ever in Vietnam."
---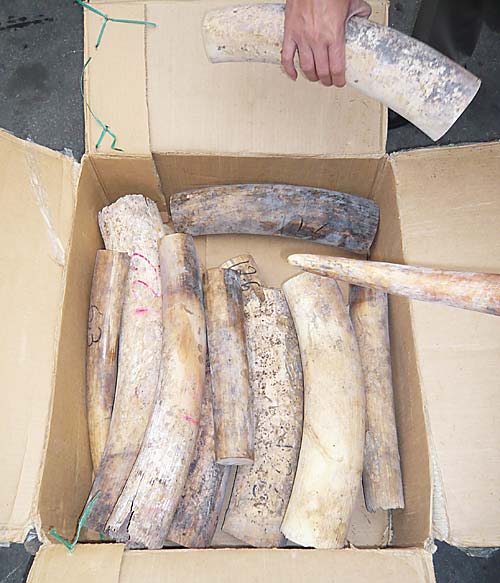 The ivory was apparently smuggled from Dar Es Salaam in Tanzania to Malaysia, before arriving in Hai Phong aboard a Malaysian-flagged vessel. The illicit cargo was found hidden in boxes of plastic waste declared to be for recycling. 
Last month, a TRAFFIC report revealed record prices for illegal ivory in Viet Nam, but it is not yet clear whether the tusks seized were to be sold in Viet Nam or were being smuggled in for onward movement. 
"The Vietnamese enforcement authorities are to be congratulated for their vigilance in bringing about this important seizure," commented Steven Broad, Executive Director of TRAFFIC.
In 2007, a TRAFFIC report presented to CITES (the Convention on International Trade in Endangered Species of Wild Fauna and Flora) warned that Asian-run organized crime syndicates based in Africa were being implicated in the increase in illegal elephant ivory trade in Asia. 
"This latest incident underlines TRAFFIC's earlier warnings about the involvement of organized criminal gangs in ivory smuggling," commented Broad.
---