Marine turtle campaign launched in Viet Nam
Ha Noi, Viet Nam, 20th November 2008—Travelers through Ha Noi this November might see something strange around West Lake: a line of cyclists dressed as turtles making their way through the traffic. 
---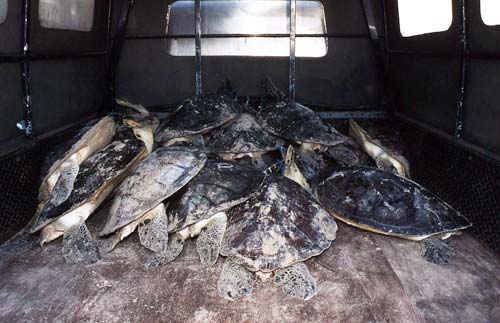 The cyclists, who will be carrying signs about marine turtle conservation, are part of a month-long strategic awareness campaign to alert the public to the conservation threat posed by illegal trade in marine turtles. 
In addition to the bicycle road show, banners are being hung along major thoroughfares in Ha Noi, with messages highlighting the wild status of marine turtles and the illegality of purchasing marine turtles and their products.
Technical experts will be on hand to answer questions from passers by about marine turtles, their plight in Viet Nam and what consumers can do to protect them. 
The campaign is organized by TRAFFIC and the Department of Capture Fisheries and Fisheries Resource Protection (DECAFIREP) and Ha Noi Fisheries, and funded by the Danish International Development Agency (DANIDA). 
More and more species are being pushed towards extinction by illegal wildlife trade; in Viet Nam alone, this trade is estimated to be worth at least USD60-70 million a year. While wild plants and animals are predominantly consumed as food and in traditional medicine, they are also used as trophies, luxury goods, and for private collections and zoos. Animals from turtles, snakes and monitor lizards to civets, otters and monkeys are also increasingly bought as pets.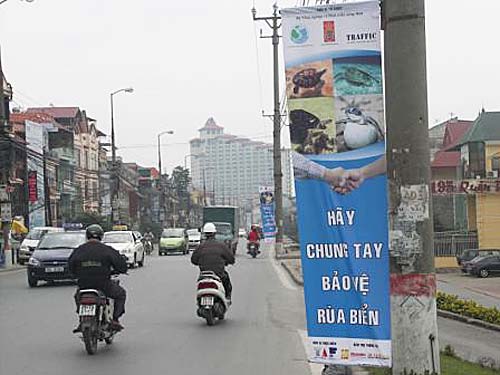 In the region, trade of wild plants and animals for consumption and use in various forms dates back more than 4,000 years. Mindful of this tradition, TRAFFIC, in collaboration with government partners, is developing innovative and interesting approaches to capture the public's attention about the urgent need to mitigate illegal wildlife trade. 
The launch of the marine turtle campaign comes in the same week that Viet Nam's Foreign Ministry reaffirmed the country's commitment to tackling wildlife crime. According to a Ministry statement: "the consistent policy of Vietnam is to actively protect wild animals and to ban the illegal trade in wild animals." 
The statement was issued following media reports that a diplomat from the Vietnamese embassy in South Africa had been recalled to Viet Nam, allegedly for receiving rhino horn from a known dealer.
---