Malaysia's new wildlife law used to tackle cybercrime
Kuala Lumpur, Malaysia, 12th January 2011—A man who put two ivory statues for sale online will be the first person charged under Malaysia's tough new wildlife laws.
---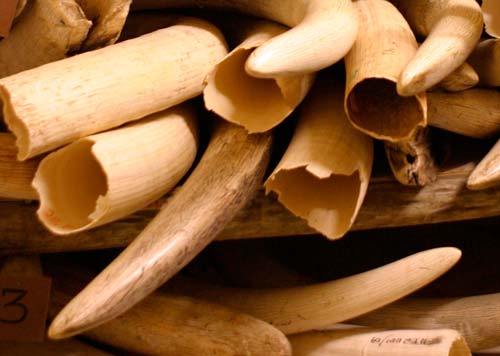 The Selangor State Wildlife and National Parks Department (Perhilitan) raided the man's home in Bukit Jelutong on Tuesday and found the ivory items, which he advertised in the classified ads of a well known local website, officials told TRAFFIC.
He is expected to be charged under Section 68(b) of the Wildlife Conservation Act 2010 which came into force in December.
He faces up to MYR 100,000 (USD 32,500) in fines or up to three years in jail, or both, if found guilty.
Under the previous law the penalties would have been significantly lower: a fine of not exceeding MYR3,000 (USD975) or to a term of imprisonment not exceeding one year or to both.
"It is encouraging to see the new law deployed so quickly and to address this specific problem," says Chris R. Shepherd, Deputy Regional Director of TRAFFIC Southeast Asia.
The case is not only significant in putting the new law to the test, it also shines a spotlight on the illegal trade in wildlife and wildlife parts on the internet.
"Illegal trade in wildlife on local websites is a serious issue that needs to be addressed, says Shepherd.  
"This case exemplifies the need for increased monitoring of these websites."  
While Malaysia does not possess the open ivory markets of other countries in the region, the country is becoming one of concern for its role in the global ivory trade. Malaysia was identified in the latest Elephant Trade Information System (ETIS) report as a country of concern because of its role as a significant transit point.
ETIS is the world's largest database of elephant product seizure records, comprising more than 15,400 ivory seizure cases compiled over the last 21 years and is compiled by TRAFFIC on behalf of the Parties to the Convention on International Trade in Endangered Species of Wild Fauna and Flora (CITES). The data shows a growing number of illegal ivory shipments passing through Malaysian ports.
In 2009, a large shipment of 5,647 kg of ivory was seized in Viet Nam, having passed through Pasir Gudang, Malaysia, while in 2010, 1,665 kg of ivory was seized in Hai Phong Port, Viet Nam, again having come via Malaysia. 
In August last year, Wildlife officers seized two tonnes of elephant ivory and five rhino horns at Kenya's international airport, which were to be illegally shipped to Malaysia.
---