Malaysian Customs make large seizure of threatened Malagasy tortoises
Sepang, Malaysia, 15th May 2017–Rhino horns, pangolin scales and now 330 Critically Endangered Malagasy tortoises: Customs officers at Malaysia's Kuala Lumpur International Airport (KLIA) have made a third stunning seizure of wildlife trafficked from Africa in just over a month. 
---
On Sunday, officers confiscated five cardboard cartons containing a piece of luggage each, containing between them 330 Critically Endangered tortoises—five Plougshare Tortoises Astrochelys yniphora and 325 Radiated Tortoises Astrochelys radiata that had been smuggled from Madagascar on an Etihad Airways flight via Abu Dhabi. 

Both species are fully protected in Madagascar and listed in Appendix I of the Convention on International Trade in Endangered Species of Wild Fauna and Flora (CITES), which means all international commercial trade in them is prohibited.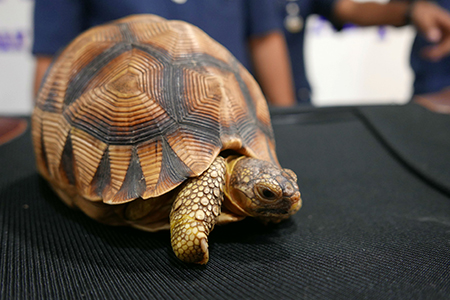 The consignment was falsely labelled as stones and accompanying documents carried a fake address for the recipient. No arrests were made.

"We are very serious about tackling wildlife crime involving Malaysia, especially through KLIA," Customs Deputy Director for Enforcement and Compliance Abdull Wahid Sulong told a press conference today, "We are calling on the public to share information on this case via our hotline 1-800-88-8855." 

"The string of seizures certainly shows that Malaysian Customs means business and TRAFFIC is glad to see this action against organized criminal wildlife trafficking," said Kanitha Krishnasamy, Senior Programme Manager for TRAFFIC in Southeast Asia. 

"However, it's worrying that shipments headed for Southeast Asia from Africa via the Middle East are only detected in the region: it clearly points towards the need for greater scrutiny at airports both at points of origin and at transit points such as Doha, Dubai and Abu Dhabi," said Krishnasamy.  
On 7th April, Malaysian Customs seized 18 rhino horns from Mozambique on a Qatar Airways flight that transited Doha on its way to Kuala Lumpur. On 1st May, the agency seized 408 kg of pangolin scales from Ghana on an Emirates Airways flight that transited Dubai. On 3rd May, 304 kg of pangolin scales from the Republic of Congo were again transported on an Emirates Airways flight that went through Kenya and transited Dubai before being seized in Kuala Lumpur.
The latest seizure also represents the third time this year Malaysia has been linked to a seizure of the Ploughshare Tortoise, one of the world's rarest reptiles. Last week, a Malaysian man was caught at Taoyuan International Airport in Taiwan for attempting to smuggle three Ploughshare Tortoises from Malaysia into Taiwan. In March, a Plougshare Tortoise was among other species discovered in Taiwan in a shipment of shoes from Penang, Malaysia. 

"It is vital that highly threatened seized tortoises, especially Ploughshare Tortoises, are repatriated to Madagascar and reintroduced following the appropriate protocols to augment the wild population there," said Dr Chris R. Shepherd, Regional Director for TRAFFIC in Southeast Asia. 

"The thoughtless greed of those buying these animals is driving Ploughshare Tortoises to extinction, and we encourage the authorities to go after not just the traffickers but also those buying them."

Although the distribution of rare tortoises once in Asia is not well-known, Malaysia has a history of recent cases involving Malagasy tortoises. In 2015, Malagasy Customs seized over 700 Radiated and Ploughshare Tortoises bound for Malaysia. In 2010, Malaysian authorities sentenced two Malagasy women to a year in jail for trafficking 369 Radiated and five Plougshare Tortoises into the country and just a month prior to that foiled an attempt to smuggle 285 Radiated Tortoises into the country in suitcases that also contained drugs. 
---