Malaysia makes its eighth African pangolin scale and ivory seizure for 2017
Kuala Lumpur, Malaysia, 2nd August 2017–Royal Malaysian Customs officers have made their eighth seizure of African pangolin scales and elephant ivory this year as a shipment was intercepted last Sunday. The seizure brings their total haul for the year to a staggering 1.7 tonnes of pangolin scales and 958 kg of ivory.
---
At approximately 1:30pm on 30th July, Customs officers seized two boxes labelled as "food stuff" that arrived at the Kuala Lumpur International Airport (KLIA) air cargo Free Trade Zone via an Etihad Airways flight from Lagos, Nigeria which had transited via Abu Dhabi, United Arab Emirates. Upon inspection it was revealed that the shipment listed a fictitious local address as its destination leading officers to find 23 pieces of ivory weighing 75.74 kg.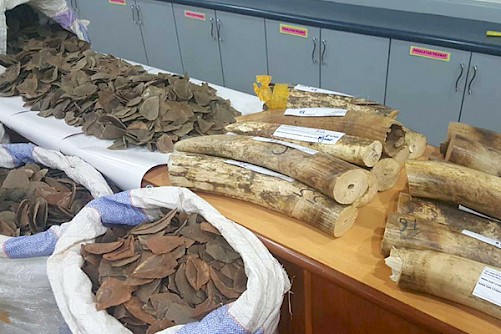 Seven hours later, officers inspected another shipment which had been labelled as "fish maw". The shipment of six gunny sacks were filled with 300.90kg of pangolin scales, and had arrived onboard an Ethiopian Airline flight from the Democratic Republic of Congo that had transited Addis Ababa, Ethiopia. Malaysia was listed as the end destination on the airway bill.
The two seizures make up Malaysia's fifth pangolin scale seizure since 2nd May and the third ivory seizure since  1st January 2017. Just over two weeks ago, Customs at KLIA arrested a Vietnamese man who was carrying 36kg of processed ivory in two suitcases, who had also arrived on an Ethiopian Airline flight from Addis Ababa.  
Dato' Mohd. Pudzi, Deputy Director of Customs told a press conference today that they will work closely with all the stakeholders at KLIA to enforce a strict work flow to stop traders from using the country as a transit point for illegal wildlife trade. All eight African and Asian pangolin species were listed on Appendix I of the Convention on International Trade in Endangered Species of Wild Fauna and Flora (CITES) in October last year, making all international trade illegal.
2017 has clearly been a busy and fruitful one for Malaysian Customs and we applaud them for the effort that has led to the string of seizures. All the countries involved in these routes must show similar vigilance to identify parties involved and disrupt the operations of criminals masterminding these intercontinental shipments
Kanitha Krishnasamy, Acting Regional Director for TRAFFIC in Southeast Asia
Significant pangolin seizures involving Malaysia's Customs so far have involved at least six other countries along the trade route -  Democratic Republic of Congo, Ethiopia, Ghana, Kenya, Turkey and the United Arab Emirates. No arrests have been made in connection with Sunday's seizures. Both cases are being investigated under the section 135(1) of the Customs Act 1967 for illegal import of prohibited goods which carries a fine between 10 and 20 times the value of the smuggled goods or a maximum three years in jail, or both.
---