Lend Your Eyes to the Wild: world zoos want your help to stop illegal wildlife trade
Taronga, Australia, 29th April 2016—An international campaign to stop the massive illegal trade in wildlife will engage world zoos and their supporters in a powerful community campaign to combat the illegal wildlife trade.
---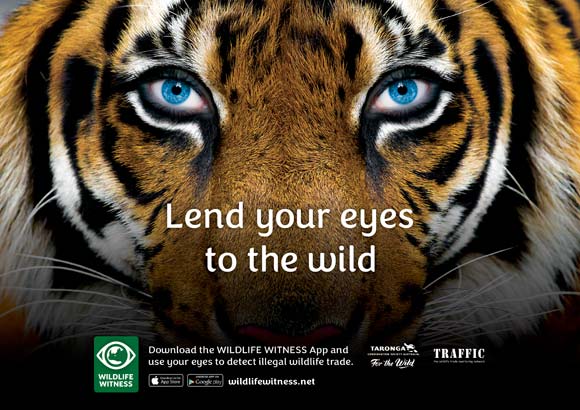 TRAFFIC's South-East Asia Regional Director, Dr Chris Shepherd launched the Lend Your Eyes to the Wild campaign at Taronga Zoo today.
Dr Shepherd said: "There has currently been an unparalleled spike in illegal wildlife trade, the greatest direct threat to the future of many of the world's most iconic species from rhinos and elephants to Australia's echidnas and exotic birds."
"Sadly, animals are being illegally killed or taken from the wild around the world to be sold for traditional medicines, luxury food, horns and other parts, restaurant dishes, fashion items or pets."
Dr Shepherd said world zoos have a tremendous combined capability to reach many people with this information quickly. Taronga Zoo, San Diego Zoo in the USA and Chester Zoo in the UK together are visited by 6.3 million people every year.
The zoos hope that the new worldwide campaign will inspire the public to report wildlife trade offences when they see or suspect them via a smartphone app.
"We want people to be the eyes and ears in the fight against illegal wildlife trade," said Shepherd.
"They can report what they see through Wildlife Witness, a free smartphone app, that allows tourists and locals to easily report wildlife trade by taking a photo, pinning the exact location of an incident and sending these important details to TRAFFIC, the wildlife trade monitoring network." 
Taronga Zoo Director, Cameron Kerr, said: "Given that world Zoos are visited by more than 700 million people annually, imagine how quickly the illegal wildlife trade would be stopped if everyone took action together. We're hoping the Lend Your Eyes campaign will make this a reality."
Scott Wilson, head of field programmes at Chester Zoo said: "Zoos are delivering projects across the globe to help save endangered species from extinction but we can't do this on our own. We need everyone to help."
The Wildlife Witness app was developed by Zoos in Australia led by Taronga. The zoos have also supported a position for a Crime Data Analyst based at TRAFFIC. 
Illegal wildlife trade is considered the fourth largest in the world, after drugs, counterfeiting and human trafficking. 
More info: www.wildlifewitness.net
---