Javan Rhino extinct in Viet Nam
Hanoi, Viet Nam, 25th October 2011—The last Javan Rhinoceros in Viet Nam was shot and its horn removed, presumably by poachers, according to a new WWF report. 
---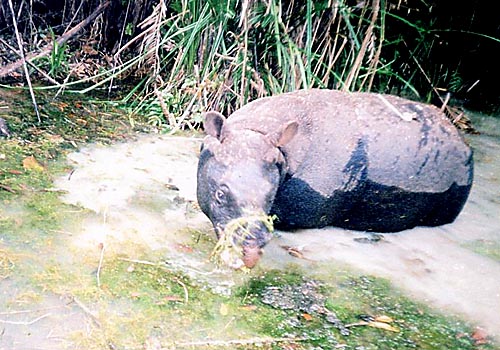 "It's hardly surprising the horn was missing from the last rhino as Viet Nam is the pre-eminent market destination for illegally sourced rhino horns," said Tom Milliken, TRAFFIC's rhino expert.
The Javan Rhino was confirmed extinct in the country after genetic tests confirmed that all 22 rhino dung samples collected between 2009—2010 in Cat Tien National Park in southern Viet Nam originated from a single animal. 
It was the individual found dead with a bullet in its leg and its horn removed in April 2010. 
"It's tragic that the Javan Rhino has been wiped out in Viet Nam by the same forces that are driving rhino poaching in Africa," said Milliken.
This is the ultimate wake-up call for the Vietnamese government to turn aggressively on its internal rhino horn market."
Tom Milliken, TRAFFIC's rhino expert
Once found from Bangladesh across South-East Asia to Sumatra and Java, today a relict population of perhaps 50 Javan Rhinos is all that remains, confined to the Ujung Kulon Peninsula in western Java, Indonesia. 
In 1988 the species was thrown a lifeline in mainland Asia, where it was believed extinct, following the discovery of a relict population in Cat Tien National Park. 
From the mid-1990s, several organizations were involved in efforts to conserve the remaining rhinos in the park, but ultimately failed because of ineffective protection, according to the report.
Tran Thi Minh Hien, WWF-Vietnam Country Director said: "It is painful that despite significant investment in the Vietnamese rhino population, conservation efforts failed to save this unique animal. 
"Vietnam has lost part of its natural heritage."
The report Extinction of the Javan Rhinoceros Rhinoceros sondaicus from Vietnam is available at http://www.mediafire.com/?e8i343a7l33yqex
---