Indonesia tightens tortoise trade regulations
Cambridge, UK, 14th February 2008—In reponse to a TRAFFIC report, An overview of the regulation of the freshwater turtle and tortoise pet trade in Jakarta, Indonesia, launched last month, the Indonesian Government has acted swiftly to tighten up regulations on importing exotic species of tortoises and turtles into the country. The report highlights the rampant illegal trade in tortoises and turtles in the pet markets of the nation's captial, Jakarta. 
---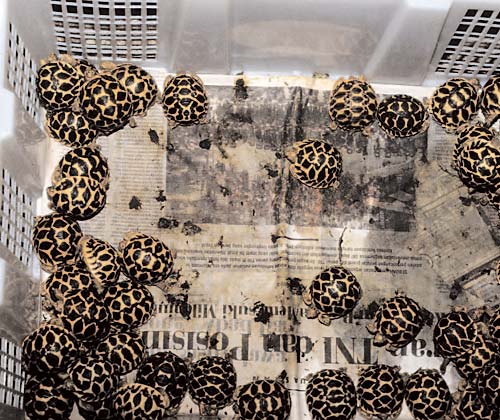 TRAFFIC investigators found 48 species of freshwater turtles and tortoises for sale, more than half of them exotic species, and the vast majority illegally obtained, including five non-native species listed in Appendix I of CITES (the Convention on International Trade in Endangered Species of Wild Fauna and Flora). CITES Appendix I listing prohibits commercial international trade in a species. 
Following the revelations, Indonesia has written to the CITES Management Authorities (those government agencies responsible for implementing CITES regulations) in India, Madagascar, China, USA, Brazil, Peru, Chile, Equador, Guatemala and to the CITES Secretariat. 
From 1 March 2008, all specimens of CITES-listed freshwater turtles and tortoises exported to Indonesia will require an import permit and those without will be disposed of. Under CITES, no import permit is needed for Appendix II-listed species unless required by national law. Countries of origin will also need to notify Indonesia before issuing export permits. 
"This is the kind of swift and decisive action that is needed to stamp out the illegal trade in threatened tortoise and turtle species," said Azrina Abdullah, Director of TRAFFIC Southeast Asia. 
The government has also announced the introduction of a CITES Management Authority registration scheme for privately owned tortoises and turtles already in Indonesia. 
The new regulations will benefit threatened species such as Radiated Tortoise Geochelone radiata and Indian Star Tortoise Geochelone elegans, which are amongst the most popular in trade, despite both being listed in the CITES Appendices (I and II respectively), and being protected in their native countries.
---