Indonesia foils pangolin smuggling attempt
Medan, Indonesia, 30th September 2011—Marine police in North Sumatra have seized over a hundred pangolins and arrested three men who were en route to Malaysia with the animals. 
---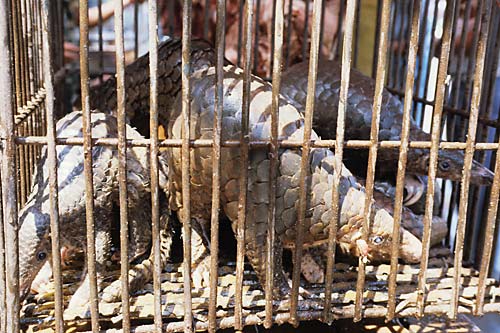 The Sunda Pangolins Manis javanica, hidden in 20 gunny sacks, were found in a boat seized in waters off Belawan on Wednesday. The smugglers were believed to have left from Pantai Cermin, a popular holiday beach resort near Medan.  
Head of the Belawan Nature Conservation Agency Joni Pasaribu said authorities found 111 pangolins in the gunny sacks; three had died while two babies were found still alive. The pangolins will be released into the wild as soon as possible, he told TRAFFIC Southeast Asia.  
The suspects are expected to be charged under Article 21 paragraph (2), in conjunction with Article 40 paragraph (2), of the Law of Conservation of Natural Resources and Ecosystems.
The seizure is the latest in a number of foiled attempts to smuggle pangolins out of Indonesia.  
Just one week ago, authorities disposed off a massive shipment of dead pangolins and scales that was confiscated by Indonesian Customs at the Belawan International Container Terminal in May this year.
The 5.9 tonnes of pangolin meat (representing 1,795 individuals) and 790 kg of scales were buried in a landfill in Terjun, Medan. The pangolins were found hidden with several tonnes of snakehead fish Channa spp and Asiatic Softshell Turtle meat Amyda cartilaginea, all bound for Viet Nam, with news reports quoting M. Ranu Subroto SH, Head of the District Prosecutor General's office as saying three local men had been arrested. The suspects were detained for allegedly falsifying shipping documents.
Also in May this year, Indonesian Customs discovered another Viet Nam bound shipment of pangolin meat and scales totaling 7.5 tonnes, at the Tanjung Priok Port in north Jakarta.
On 10th July, Customs officers at Jakarta's Sukarno-Hatta Airport seized a shipment of 1,732 kg of pangolin meat and a further 380 kg of pangolin scales.
Pangolins in Asia are protected species in all range states and international trade is not permitted under the Convention on International Trade in Endangered Species of Wild Fauna and Flora (CITES).
"Sumatra remains a major source of pangolins and other wildlife entering the global illegal black market," said Chris R. Shepherd, Deputy Regional Director of TRAFFIC Southeast Asia.  
"The number of pangolins falling victim to this trade has reached ridiculous levels. There is no way quantities like these will leave wild populations unaffected.
"While the seizures and arrests are an important part of the fight against the illegal trade, Sumatra's authorities need to do much more to get at the heart of this problem. They must find the warehouses, break the smuggling networks and put the kingpins in jail," he said.
---