In light of global tiger day, Vietnamese companies take action against illegal wild species consumption
HANOI, 28 July 2023 – 40 Vietnamese company leaders gathered to discuss updating their corporate branding and social responsibilities in favour of more environmental-friendly practices. As global tiger day was approaching, the companies took a stand against illegal wild species consumption.  
---
In the past twenty years, Viet Nam has seized the equivalent of 216 tigers, accounting for around 10% of total tigers seized in the 13 countries that tigers roam. Ahead of global tiger day, the urge to strengthen our efforts to reduce the demand for tigers and other threatened wild species in Viet Nam was paramount.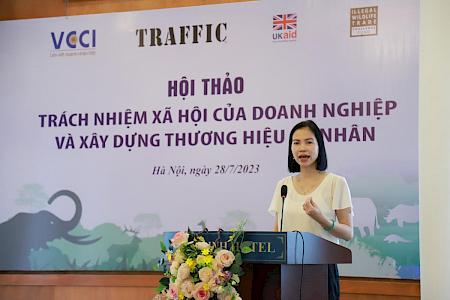 Since 2020, TRAFFIC has collaborated with the Viet Nam Chamber of Commerce and Industry (VCCI)  to approach the Vietnamese business community through a series of Social and Behaviour Change (SBC) interventions and reduce the demand for tiger products consumption. Tiger products are thought to be a rare, precious gift used to promote business relationships. Currently, more than 50 businesses are engaged in wild species protection activities, such as implementing SBC messaging into business training.  
As part of the collaboration, today's workshop was organised by TRAFFIC and VCCI to enhance the capacity of the Viet Nam business community to continue to build green and sustainable entrepreneur branding that promotes responsible action in favour of wild species protection.  
Respecting nature and protecting the environment is one of the six moral principles of the Code of Ethics of Vietnamese businesses, which was launched a year ago by VCCI to build a new business culture for Viet Nam. It's also Viet Nam's obligation as a signatory of the Convention on International Trade in Endangered Species of Wild Fauna and Flora (CITES) and the Convention on Biological Diversity (CBD). 
In a changing world where meeting the needs of new customers' behaviours is very competitive, our Vietnamese entrepreneurs must follow international standards and constantly renew themselves. By training the Vietnamese entrepreneurs today, we provide them with concrete actions that will help shift their branding towards environment-friendly practices, and we contribute to developing a sustainable entrepreneur culture for Viet Nam, unified around strong business ethics." 
Ms Le Thi Thu Thuy, Vice Director of VCCI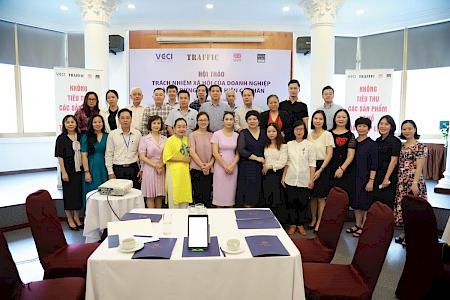 During the workshop, several techniques and concepts were introduced to the 40 business representatives, with the hope of shifting their business ethos towards sustainable practices in favour of wild species conservation.  
Concepts such as social responsibility actions including placing SBC messages into Business Indexes and Business Publication, integrated staff training, sustainable branding, and wild species risk management techniques were introduced. 
Ms Doan Thi Phuong Thuy, Founder and Director of King Craft Viet, said "Our brand represents our identity and reputation. Placing wild species protection at the core of our entrepreneur branding is not only a way to mutually benefit the planet but is also a strategy to increase competitiveness and gain customers' trust and loyalty."  
As the event came to a close, two enterprises pledged to become Ambassadors and show their commitment to take a stand against illegal wild species consumption. With this pledge, they guarantee to incorporate wild species protection messages or interventions into their upcoming business operations and contribute to their conservation. 
---
Notes:
The activity is part of the project "Social Marketing to reduce demand for tiger products in Viet Nam" funded by the United Kingdom Government (UKaid) through the Illegal Wildlife Trade Challenge Fund (IWT Challenge Fund) with implementation support from the TRAFFIC International Viet Nam Office (TRAFFIC). 
---
About IWTCF

The Illegal Wildlife Trade Challenge Fund (IWTCF) is a UK government competitive grants scheme aimed at eradicating the illegal trade in wildlife. The UK is committed to protecting endangered animals and plants from poaching and illegal trade. The IWTCF provides funding for practical projects around the world that help eradicate illegal wildlife trade and, in doing so, reduce poverty.