How to tell real from fake ivory
Bangkok, Thailand, 27th January 2011 —To bolster its fight against the illegal ivory trade, Thailand will equip close to 100 enforcement officials and ivory traders with the skills to identify real from fake ivory.
---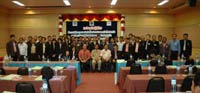 Thailand's Department of National Parks, Wildlife and Plant Conservation has teamed-up with TRAFFIC Southeast Asia and the local administrative organizations to carry out a specialized training programme in Surin Province, in north-eastern Thailand, which is home to a significant ivory carving industry.
A key component of the programme will involve the Thai government encouraging ivory traders to inventory and register their ivory stocks—a requirement under Thai law that few traders have responded to so far.
The trade in ivory and elephant products in Thailand is widespread with hundreds of shops openly displaying and selling ivory and elephant products. In the absence of an effective ivory registration system and few measures in place to control the commerce, there is no way of telling if the products on sale have originated from a legal source under current legislation
Coupled with poor measures to control commerce and numerous cases of shipment of illegal ivory through or to Thailand, the country was ranked in 2009 among the top three most notorious hubs for the illegal trade in ivory globally.
However in recent times, Thailand has responded with a series of measures to repair its international image including crucial training for enforcement officers.
"It's a problem we view seriously and one that we are acting upon by providing enforcement officers all the tools they need to enforce the law and urging ivory traders to respect it," said the Director General of Thailand's Department of National Parks, Wildlife and Plant Conservation, Mr. Sunun Arunnopparat.
The past year also saw some of the country's largest seizures totaling almost 4.5 tonnes, a campaign at Suvarnabhumi International Airport warning potential consumers not to buy illegal ivory and transport it across international borders and steps towards finalizing a new draft law—the Elephant Act—that would close existing loopholes and better regulate Thailand's domestic ivory trade. 
"These seizures are certainly welcomed", says Tom Milliken, Director of TRAFFIC East and Southern Africa, "but they also serve to illustrate the scale of Thailand's ivory trade.  Anything that makes it past Thai Customs is home free and that's a huge problem."
The workshop in Surin Province aims to ensure officers will be able to monitor and enforce this new law. It also targets a sound understanding and more effective use of the Elephant Trade and Information System (ETIS), the world's largest database on ivory and elephant product seizures that TRAFFIC manages on behalf of Parties to CITES (the Convention to International Trade in Endangered Species of Wild Fauna and Flora)
While acknowledging steps Thailand has taken to address its poorly regulated ivory trade, TRAFFIC stressed the need for these efforts to be sustained, to ensure lasting change.
"TRAFFIC would like to see authorities in Thailand work together to prosecute all ivory smugglers apprehended at Suvarnabhumi International Airport to the full extent of the law," said TRAFFIC Southeast Asia's Deputy Regional Director, Chris R. Shepherd.
"We would also like to see enforcement expand to the retail market with arrests of ivory vendors that directly benefit from the smuggling. As profit margins are high, only strong deterrents will have an impact," he added.
---
Notes:
1. Major ivory seizures at Suvarnabhumi International Airport by Royal Thai Customs in 2010 and 2011: 

•    February 2010:    239 tusks weighing two tonnes
•    April 2010:         1.4 tonnes 
•    July 2010:        117 tusks weighing 765 kg
•    August 2010:        16 pieces of cut ivory weighing approx 90 kg
•    January 2011:        69 tusks and 4 smaller ivory pieces weighing 435 kg

2. International trade in ivory is banned under the Convention on International Trade in Endangered Species of Wild Fauna and Flora (CITES). 

3. Currently the Asian Elephant Elephas maximus is regarded as Endangered and the African Elephant Loxodonta africana as Vulnerable on the IUCN Red List. Both are threatened by a variety of issues including poaching and illegal trade, habitat loss and degradation.
---