Frontline officers in Thailand learn anti-poaching skills
Bangkok, Thailand, 23rd August 2012—Frontline officers working in one of Thailand's most important Tiger conservation areas will complete training this week to boost their knowledge and skills in the fight against poaching and illegal wildlife trade.
---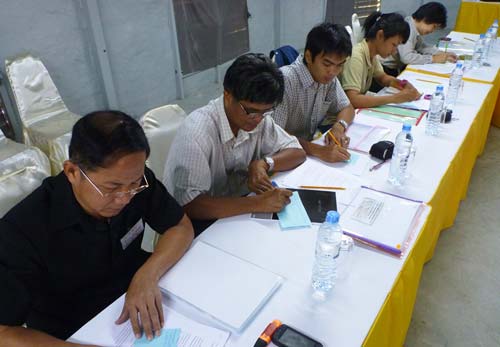 About 30 officers from various agencies participated, including enforcement officers of the Department of National Parks Wildlife and Plant Conservation (DNP) working in national parks, wildlife sanctuaries and wildlife checkpoints on Thailand's western border.
They were joined by officers from the Natural Resource and Environment Crime Suppression Division, local police, regional administrative officers and military personnel, during the two-day course organized by TRAFFIC in South-East Asia.
The training was designed to help protect Thailand's Western Forest Complex (WEFCOM). WEFCOM lies along the Tenasserim Mountain Range, which extends into both Thailand and Myanmar. It includes many of Thailand's most important protected areas including 19 national parks and wildlife sanctuaries. 
At almost 19,000 square km, WEFCOM's boundaries extend through five provinces making it one of the largest conservation landscapes in the region. It is Thailand's stronghold for the globally endangered Indochinese Tiger Panthera tigris corbetti along with a number of other endangered species and wildlife. Scientists estimate that WEFCOM can hold a viable breeding population of approximately 250-350 Tigers—provided prey densities increase, the habitat remains intact, and anti-poaching efforts are increased. 
The workshop, one of Thailand's national efforts against illegal wildlife trade in an area crucial to wild Tigers, was held in Uthai Thani, near the Huai Kha Khaeng Wildlife Sanctuary; a UNESCO Natural World Heritage site and one of Thailand's premier protected areas for Tigers and elephants. 
The workshop aimed to establish a sound understanding of proper legal and enforcement processes, increase vigilance of wildlife trafficking routes and smuggling methods, and build capacity in regards to species identification to enable participants to act against wildlife criminals with greater confidence and frequency.
"This workshop in one of Thailand's most prized landscapes is very important as it brings various parties together to learn and share experiences," said Uthai Thani Deputy Governor Boonlert Promjirachot at the official opening ceremony. 
"Infrastructure development has unfortunately facilitated smuggling by criminal networks, but we can outwit them and end their criminal activities if we work together. Fighting wildlife crime is not an easy task - interagency collaboration is the key to successful enforcement and protection efforts." 
Designed to foster networking and sharing of information among technical staff and enforcers, while also raising interest to fight wildlife crime, the workshop included staff from agencies that do not traditionally deal with the problem. 
"The challenges protecting such a vast landscape are enormous, but no one knows the local situation better than the enforcement agencies that are already there on the ground. They have the power to end wildlife trafficking, provided they co-operate. We hope that bringing them together and providing opportunities for information exchange will translate to the establishment of effective multi-agency solutions to the problem," said Dr William Schaedla Regional Director of TRAFFIC in Southeast Asia.
This is the second training provided to enforcement agencies working in the WEFCOM this year. This programme is funded by the USFWS and was organized with support from the Thailand Department of National Parks, Wildlife and Plant Conservation.
---