Fourteen young dogs join the race to become India's wildlife sniffer dogs
Railways and Forest department to get new recruits
---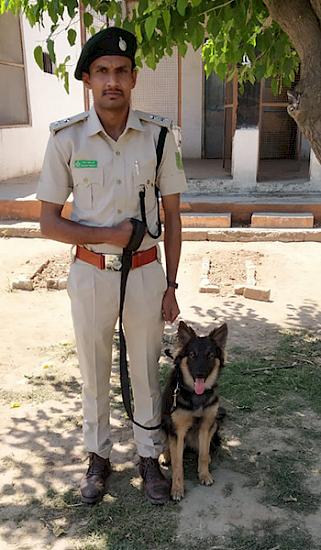 Panchkula, Haryana 11th May 2021 — Sniffer dogs are game-changers in the endeavour to curb wildlife trafficking in India. Having proved their competence in combatting other crimes in the past, TRAFFIC and WWF-India launched the country's first wildlife sniffer dog training programme in 2008 with just two dogs. This month, 14 young dogs and their 28 handlers began training at the Basic Training Centre Indo-Tibetan Border Police Force (BTC-ITBP) camp in Panchkula, Haryana. On completion of their seven-month-long training, this ninth batch of dogs will increase India's wildlife sniffer dog (super sniffer) squads trained to date to 88. 
Under TRAFFIC's newly formed alliance with the Railway Protection Force (RPF), two dog squads will be deployed by the Southern and West Central regions of Indian Railways. Last year, RPF deployed two specialised wildlife sniffer dog squads for the first time in India to curb the smuggling of wildlife contrabands through the extensive railway network. The dogs Nero and Misty have been an integral part of monitoring in Northern and Eastern Railways and carry out regular patrolling of all known wildlife smuggling sensitive trains and station areas on an everyday basis.
A further three super sniffer squads will be deployed by the Forest Department of Maharashtra, another two each by the Forest Departments of Karnataka, Chhattisgarh and Odisha, and a final squad will be deployed by Forest Departments of Uttar Pradesh, Gujarat and Tamil Nadu.
The new recruits are 6-9 months old and will go through a rigorous training schedule that will help instil obedience, sniffing and tracking skills, and an unbreakable bond with their handlers; much required to become an efficient wildlife sniffer and tracker dog. They will be trained to detect Tiger and Leopard skins, bones and other body parts; bear bile, Red Sanders, and several other illegal wildlife products. 
Even in these unprecedented times of COVID-19 and second wave hitting hard, the dedication of Forest departments and the Railway Protection force toward wildlife conservation has shone through. Despite travel restrictions and the threat the pandemic poses, their commitment and enthusiasm for this batch reflect their relentless effort to increase their enforcement strength.
TRAFFIC's wildlife sniffer dog programme has come a long way – 74 squads have already been trained, and another 14 will enter the service after completion of their training that started today. The total number of wildlife seizures undertaken by the deployed dog squads are over 350. The ever-increasing demand from the wildlife protection agencies for training more squads like these attests to the role and importance of super sniffers in investigating wildlife crime."
Dr Saket Badola, Head of TRAFFIC's India officeDirector, BTC-ITBP, Panchkula Haryana said: "The current batch of dogs is second to be trained by us in collaboration with TRAFFIC and WWF-India. We are looking forward to this partnership and are hopeful that all our joint efforts will come to fruition, and these dog squads will be fully used in their states of deployment to protect our precious wildlife."
---