FairWild Week 2020: why wild plants matter more than ever
During the global lockdown, our innate need to commune with nature and the outside world has never been more apparent—which is why FairWild Week 2020, the annual celebration of the essential role wild plants play in our everyday lives, is more important and relevant than ever.
---
#FairWildWeek is an annual reminder that the wild isn't just limited to your local park or far flung landscapes. The FairWild Foundation was established in 2008 to promote the sustainable use of wild-collected plant ingredients in trade and ensure a fair deal for the communities who harvest them. TRAFFIC is one of its founding partners and continues to take an active role in its application and growth throughout the world.
Wild plant ingredients are in your kitchen cupboard, packed into the herbal teas you drink, or the mushroom risotto you had yesterday, or the chocolate-covered brazil nuts you snacked on last night.
The shampoo you use might have argan oil made from nuts wild-harvested from endemic trees in Morocco, and many cosmetic products contain Shea butter, or even Frankincense, a resin collected from wild trees, mostly in the Horn of Africa.
The list goes on and on. In fact, 26,000 plant species have well-documented global medicinal use, present in health supplements, traditional remedies, and pharmaceuticals the world over.
WILD PLANTS UNDER THREAT
However, wild plants are under pressure. There have been reports of increased use of herbal products as part of the COVID-19 response in Africa, Asia, Europe, South America, and the USA, demonstrating the value of wild plant ingredients even in times of crisis. A TRAFFIC report released last week places the use of wild plant ingredients within the context of the current pandemic.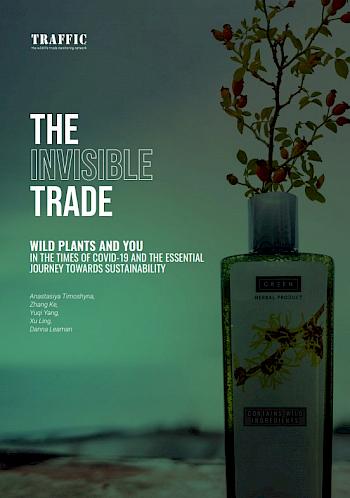 FairWild Week celebrates the undeniable value of the beautiful, powerful plants we often take for granted, but also aims to transform the way in which global supply chains collect and trade in them.
One key issue is that, as consumers, we often have absolutely no idea we're consuming wild plants. And if we do, many companies, whether purposefully or not, make it very difficult to find out where these ingredients came from and whether they were collected sustainably and ethically.
Based on IUCN Red List criteria, one in 10 of the 19% of plant species used for medicinal and aromatic properties that have been assessed are threatened with extinction in the wild. Unsustainable use and overexploitation are key threats to the world's wild plants, and figures show that global trade in wild plant ingredients is increasing  with the value of tradetripling in recent years.
It's not only consumers who rely on wild plant ingredients however; millions of people the world over depend on them for their primary source of income. In Europe, 26% of households collect non-wood forest products (NWFPs), with global production of NWFPs valued at USD88billion per year.
Many wild harvesters who collect the ingredients that go into products we all buy come from some of the most impoverished and marginalised communities in the world, often lacking safe and fair working conditions. FairWild Week draws attention to these hidden harvesters, and the ways in which we work to ensure they have sustainable, safe, and ethical employment.
SO, WHAT CAN WE ALL DO?
This is one of the questions that FairWild Week seeks to answer. We all have a role to play in making the collection, trade, and use of wild plants sustainable for people and plants alike.
FairWild Week is all about celebrating wild plants and the amazing things they do for harvesting communities, international businesses, and consumers. But it's also about encouraging industry to commit to sustainability frameworks and meaningful transparency and traceability.
As a consumer, you can ask the brands you buy from about the wild products they use, and what ethical and sustainability policies they have in place. Look out for the FairWild logo on products too, and demand more from the brands you buy from that have no protections in place.
The FairWild Standard is a fantastic way for companies to ensure the wild plant ingredients in their products are sustainably and ethically collected, and for consumers to be sure that they're buying from brands that protect the natural world and the communities who rely on it.
During #FairWildWeek, we'll be explaining how the world of wild plants could be so much more sustainable, and telling you success stories straight from the field. We'll also show you how you can take steps to reconnect to the wild through the products you use.
Check out the world of FairWild on our social accounts @FairWild on Facebook and Twitter and @FairWild_Foundation on Instagram, or head to fairwild.org/fairwild-week to find out more about what you can do to be part of the solution.
Happy FairWild Week and let's all stand up for why we care about wild plants!
---
Notes:
Visit the FairWIld website for more information!
---