FairWild: the potential to build bridges and break the barriers hindering sustainability in the Himalayas
Dehradun, India, 2019—Earlier this year, harvesters, farmers, traders and herbal companies engaged in trade of medicinal and aromatic plants (MAPs) in Uttarakhand met to discuss strengthening access and benefit sharing (ABS) from the use of natural resources, together with certification and sustainability issues in line with India's commitments under the Nagoya Protocol.[1] The meeting was hosted by Uttarakhand Biodiversity Board and the Deutsche Gesellschaft für Internationale Zusammenarbeit (GIZ) Indo-German Biodiversity Programme.
---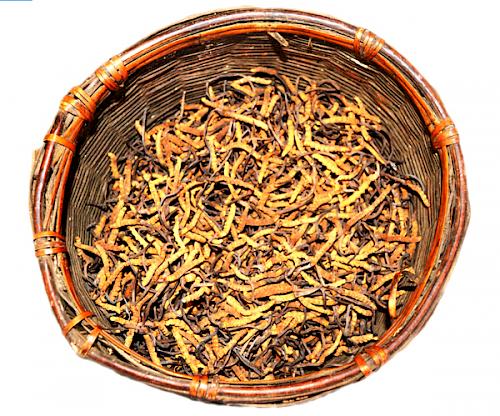 The majority of rural people in Uttarakhand are small-scale farmers, many of them also harvesters of wild MAPs and dependent on natural resources for their livelihoods. However, unsustainable harvesting practices and lenient implementation of regulation of the natural resource trade present significant development and conservation challenges. 
During the meeting, Pramod K. Yadav from TRAFFIC spoke on behalf of the FairWild Foundation about the FairWild Standard—the guidelines that ensure the continued use and long-term survival of wild plant species in their habitats—and, together with Dr Saket Badola, Head of TRAFFIC's India office, explored the potential to implement a certification programme in Uttarakhand. 
FairWild Standard principles encompass commitments to sustainable wild plant collection, social responsibility and equitable trade with the aim of ensuring the continued use and long-term survival of wild species and populations in their habitats, while respecting traditions and cultures, and supporting the livelihoods of all stakeholders, in particular collectors and workers. 
Yadav said a certification programme could help build bridges and break down the barriers hindering sustainability and fair trade of wild-harvested MAPs among harvesters, traders, and consumers. 
He highlighted a number of examples of successful FairWild Standard implementation including from the Western Ghats of India for fruits of Bibhitaki Terminalia bellirica and Haritaki Terminali achebula, which had provided improved livelihood opportunities for indigenous communities, as well as habitat for the Great Hornbill Buceros bicornis and Malabar Pied Hornbill Anthracoceros coronatus. He noted the potential for the FairWild Standard to be applied in Uttarakhand to the harvesting of Jatamansi Nardostachys grandiflora, Caterpillar Fungus Ophiocordyceps sinensis, and Kutki Picrorhiza kurrooa. 
In Uttarakhand, Caterpillar Fungus is found in alpine meadows of the Nanda Devi Biosphere Reserve and Askot landscape with temporary migrant workers from Nepal first harvesting the product from the Askot landscape in 1996–1997 and the practice gradually spreading into various valleys, including, from 2005–2006, the Dhauliganga, Rishi and Pindar valleys of the Nanda Devi Biosphere Reserve.
At the time, harvesters gained handsome returns by selling Caterpillar Fungus to brokers who exported it to China. Today, every household in and around Nanda Devi Biosphere Reserve and Askot landscape seeks to harvest Caterpillar Fungus, with the intense competition leading to resource scarcity while heightened knowledge of the commercial potential of the species has led to high prices for Caterpillar Fungus and great competition among harvesters and traders. The lure of easy money has led to a number of ecological threats to the species and its natural habitat, which also supports threatened species including the Snow Leopard (Panthera uncia). Ultimately, rising demand for international trade is resulting in over-harvesting, leading to rapidly declining populations of Caterpillar Fungus in the State. 
The Uttarakhand government has made efforts to develop polices to regulate harvesting and trade of Caterpillar Fungus, although ongoing social problems exist including infighting between harvesters and traders and a lack of trust over cash payments. Many of those harvesting are increasingly dependent on Caterpillar Fungus but lack awareness of the need for sustainable use of the resource and of alternative livelihood opportunities. 
 
The implementation of a market-based conservation tool like FairWild certification for collection and trade of Caterpillar Fungus could help ensure its sustainable collection and trade, help protect enigmatic flora and fauna like the Snow Leopard, and play a key role in increasing investment for education, improving food security and alleviating poverty of the rural mountain dwellers of the Himalayas,
Mr. S.S Rasaily, IFS, Member Secretary, Uttarakhand Biodiversity Board Dehradun, India. 
There was general agreement among those present of the need to work together to implement various initiatives for sustainable extraction and fair trade of wild resources.
This week, June 24th–28th 2019, is FairWild Week, an event celebrating the hidden wild plant ingredients in our daily routines, and working to build a sustainable future for wild plants, and the people who depend on them!
---