Experts demand answers
Creative Experts' meeting on messaging to reduce consumer demand for Tigers and other endangered species

Hong Kong, 21st November 2011—TRAFFIC and WWF are bringing together experts from a variety of backgrounds, ranging from academia to public relations companies, to devise a strategy that aims to reduce—and ultimately curtail—the consumer demand for Tigers and other endangered wildlife species.
---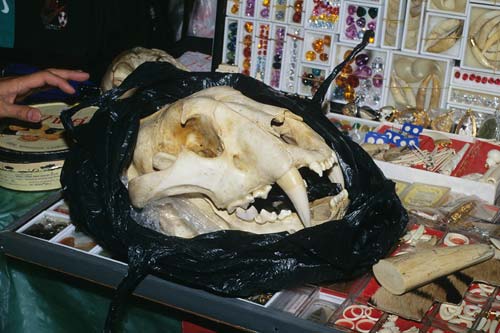 The illegal killing of and trade in wild Tigers has been a main cause of this iconic species' drastic decline. Numbering approximately 100,000 at the turn of the 20th Century, just 110 years later only 3,200 tigers remain, isolated in increasingly small pockets of forest, grassland and swamp in 12 countries in Asia, and the Russian Far East.
In the last decade there has been a widespread and steeply increasing demand for Tigers and other endangered species, such as other Asian big cats, elephants, rhinos, pangolins and marine species such as sharks and marine turtles, with China and Viet Nam considered consumer hotspots. The economic boom in these countries has fuelled an appetite for consumption of luxury items such as endangered wildlife. 
While many efforts have been made to curb this demand, approaches to date have fallen short of dissuading consumers, and the trade continues. In response, TRAFFIC and WWF will bring together experts from NGOs, universities, advertising agencies, government and the media to forge new approaches to tackle a crisis that if not put in check soon could result in the extinction of the tiger and many other endangered species. 
Creative experts from the World Bank, EIA, IFAW, ENV, Ogilvy and Mather, Tribal DDB, the Global Tiger Forum, Wilkes University, SSRC (Social Science Research Council) Vietnam, and the Biodiversity Conservation Agency of the Ministry of Environment, Vietnam will lend their expertise to the meeting, which takes place on 22nd–23rd November in Hong Kong. 
The creative team seeks to identify new and innovative strategies for discouraging consumption of wildlife, and turning those strategies into action in China and Viet Nam. The outcomes of the meeting will be pulled together into strategies which will be made available to governments, INGOs and NGOs working to save wild Tiger populations and populations of other endangered species. 
---