Enforcement agencies and port authorities aim to stop wildlife trafficking
Jakarta, Indonesia, 21st September 2010—two Wildlife Trade Regulation Courses are taking place this week in Indonesia for staff at airports and seaports to enhance their capacity to stop illegal wildlife trafficking. 
---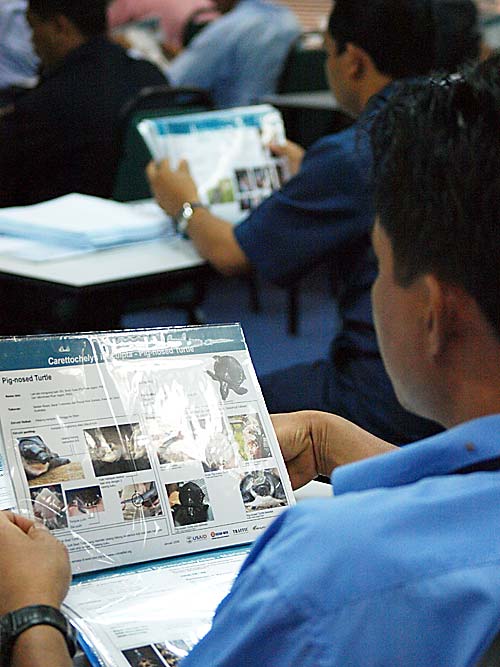 Thousands of passengers and tonnes of cargo pass through Southeast Asia's seaports and airports every day. While most of this movement of goods is legal, wildlife traffickers and organized criminal syndicates increasingly use the region's ports for illegal wildlife trade. 
"If we are to stop the illegal trade in protected and endangered species effectively, we have to ensure that all those who work at our airports and seaports remain alert and able to detect wildlife traffickers," said the Director General of Forest Protection and Nature Conservation, Ministry Forestry of Republic Indonesia.
Seizures of smuggled wildlife at international airports and seaports are becoming more common, however, it is believed that a significant portion of the illegal trade passes undetected. 
The courses, run in partnership with Airport and Port Authorities, will be jointly carried out by the ASEAN-Wildlife Enforcement Network (ASEAN-WEN), the Directorate General of Forest Protection and Nature Conservation, the Ministry of Forestry of the Republic of Indonesia, and the Natural Resources Conservation Agency of North Sumatra in Medan.
Participants will include check-in counter attendants, baggage handlers, customs officers, immigration staff, and security officials, as well as senior representatives from the Indonesian National Police, the CITES Management and Scientific Authorities and the Customs and Excise Department. 
They will be taught how to detect smuggling techniques used by traffickers and will receive training on identification of commonly traded species.
"This is a very important step forward in the fight against the illegal wildlife trade in Indonesia and in the region", said Manop Lauprasert, Senior Officer of the ASEAN-WEN Program Coordination Unit (PCU). 
"We have to work together if we are to defeat the well organized criminal syndicates that run the illegal wildlife trade".
The training will take place from 21 to 24 September 2010 in Medan for 80 staff working at the Pelabuhan Laut Belawan (Port of Belawan) and Bandar Udara Polonia Medan (Polonia Airport in Medan).
The course has previously been presented by the United States Agency for International Development (USAID)-funded ASEAN-WEN Support Program to more than 1,150 participants throughout South-East Asia, most recently for airport officials of Noi Bai International Airport in Viet Nam. 2010 is Indonesia's Wildlife Law Enforcement Year.
TRAFFIC and FREELAND Foundation provide technical assistance to ASEAN governments through the ASEAN-WEN Support Program, via a co-operative partnership with USAID.
---