Customs officers receive training to detect wildlife crime
Douala, Cameroon, 26th June 2015—Officials in charge of entry and exit points in ports and airports, plus other law enforcement agencies, including the police, customs and gendarmerie of five member countries of the Central African Forest Commission (COMIFAC)—Cameroon, Republic of Congo, CAR and DRC—participated in a three-day training workshop this June 2015 in Douala, Cameroon.
---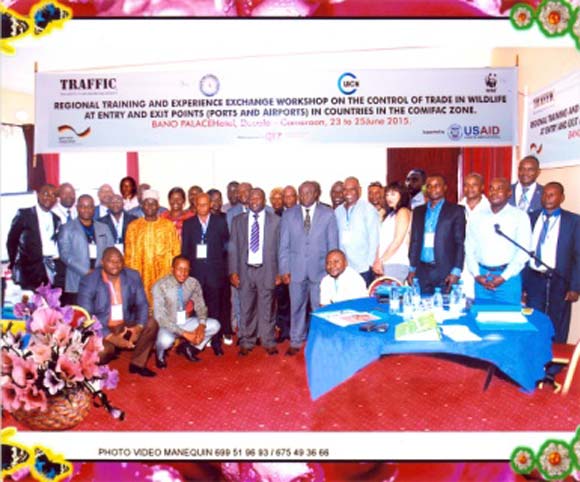 The workshop aimed to improve the management and conservation of wildlife in general and elephants in particular through enhancing identification, collection, analysis and interpretation of wildlife product seizures and other data on wildlife trade.
Dr. Paulinus Ngeh, Regional Director of TRAFFIC in Central Africa, spoke of the rise in wildlife crime in Africa and the urgent need for co-operation between relevant agencies for sharing of information to counter the highly sophisticated criminal elements trafficking wildlife species.
"The challenges in the fight against wildlife trafficking are enormous, and the field agents are best placed for controlling the situation: they have the power to stop wildlife trafficking, provided they cooperate. Bringing them together and offering opportunities for exchange of experiences will lead to the establishment of effective solutions to the problem," said Chouaibou Nchoutpouen, biodiversity expert and representative of the Executive Secretary of COMIFAC.
In support of governments, the International Consortium on Combating Wildlife Crime (ICCWC) has developed a wildlife and forest crime analysis tool to help governments assess the effectiveness of their actions. dealing with wildlife and forest crime and identifying their needs for technical assistance. 
According to Ms. Kelou, Head of the customs station at Maroua airport (in the far north of Cameroon), "the training was useful and I will in turn transmit the knowledge and messages received to my colleagues."
The workshop was organised by the Executive Secretariat of COMIFAC, WWF and TRAFFIC, under the auspices of the Cameroon Ministry of Forestry and Wildlife. It was set up in co-operation with GIZ, on behalf of and with funding from the German Ministry of Economic Cooperation and Development (BMZ). It has been co-funded by USAID, the US Agency for International Development.
---