China destroys 6.15 tonnes of seized ivory in an historic move hugely symbolic for demand reduction efforts
Guangdong, China, 6th January 2014—The Chinese government has destroyed 6.15 tonnes of seized elephant ivory accumulated through enforcement actions in a move signaling that China is firmly behind international action to address rampant elephant poaching and illegal ivory trade. 
---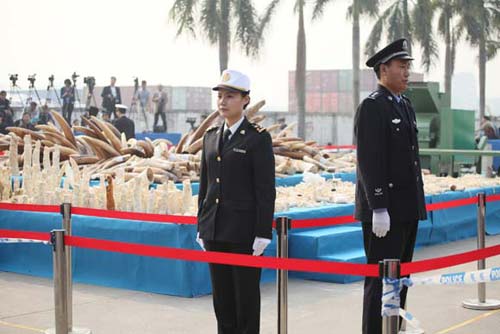 Government officials, together with observers including representatives from several embassies in China, the Convention in International Trade in Endangered Species of Wild Fauna and Flora (CITES), United Nations Environment Programme (UNEP) China Office, IUCN China Office, and international non-governmental organizations including WWF and TRAFFIC, attended an ivory crushing ceremony earlier today. 
Gabon, the Philippines and the USA have all recently destroyed ivory stockpiles, while France has also signaled its intention to do so too. 
"The destruction of seized ivory makes an important public statement that, in conjunction with other government-led efforts to reduce demand, has the potential to have a significant impact on the illegal market for ivory," said Tom Milliken, TRAFFIC's ivory trade expert.
TRAFFIC believes that best practice and transparency in the destruction of ivory stockpiles should transpire in the context of a robust ivory stock management system. Rigorous documentation of all ivory stocks should be maintained and a detailed stock inventory of the ivory to be destroyed should be produced. Independent audits can ensure that the quantity slated for destruction actually corresponds to the amount that is destroyed, to provide assurances that ivory does not find its way back into illegal markets, further feeding illegal trade. 
Although China has a legal ivory market based on stocks that pre-date the 1989 CITES ivory trade ban and the CITES-sanctioned "one-off" ivory sale with four African countries in 2008, under CITES rules, seized ivory cannot be used for commercial purposes. 
China has previously indicated it is prepared to clamp down hard against the illegal ivory trade: the ivory destruction takes place just weeks after eight Chinese citizens were convicted and sentenced to 3 to 15 years imprisonment in east China's Anhui Province for smuggling a total of 3.2 tonnes of ivory.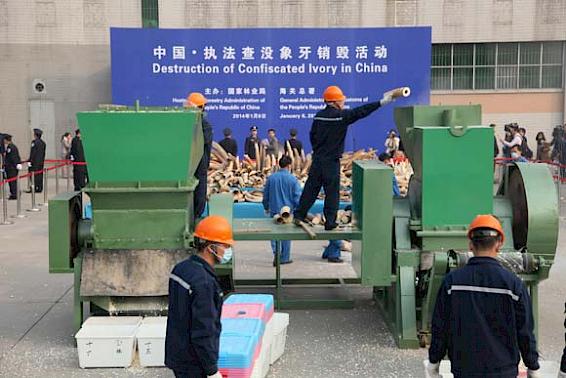 Fan Zhiyong, Head of WWF China's Species Programme said: "WWF believes that destroying seized ivory is a signal of the government's commitment to enhance law enforcement against illegal ivory trade that will support international action against elephant poaching and illegal wildlife trade."
"Tens of thousands of African Elephants are being killed by poachers because of the high demand of ivory. China's gesture is a solemn commitment by the government to cleanse the Chinese ivory market and to guarantee the survival of Africa's elephants."
The high poaching levels are mirrored by the ivory trafficking figures compiled through the Elephant Trade Information System (ETIS) database, which TRAFFIC manages on behalf of the CITES Conference of the Parties. 
According to bias adjusted ETIS data, illicit trade in ivory rose in 2011 to the highest levels in at least 16 years and persisted at unacceptably elevated levels through 2012. Preliminary indicators suggest that even higher levels of illicit trade may have been reached in 2013. Although incomplete, the raw data for large-scale ivory seizures in 2013 (involving at least 500 kg of ivory in a single transaction) already represent the greatest quantity of ivory confiscated over the last 25 years for this type of seizure. 
Large-scale ivory seizures typically indicate the participation of organized crime and provisional data for 2013 includes 18 such seizures yielding more than 41.6 tonnes of ivory. Analysis of ETIS data has identified China as the major destination for ivory in Asia. 
"China's actions, more than those of any other country, have the potential to reverse the rising trends of elephant poaching and illegal ivory trafficking," said Milliken.
The ivory destruction ceremony took place following an illegal wildlife trade conference organized by SFA, where recognition rewards were issued for outstanding actions by those involved in combating illegal wildlife trade, including the Beijing Forestry Police Department, Guangzhou Customs, etc.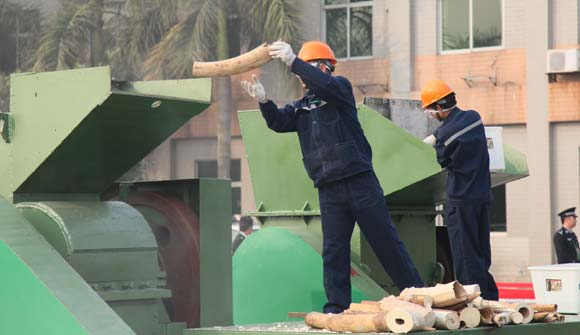 ---