Cambodia holds ASEAN wildlife crimes workshop
Phnom Penh, 20th August 2010—Key judiciary and law enforcement leaders met this week to review prosecution of wildlife offences in Cambodia. 
---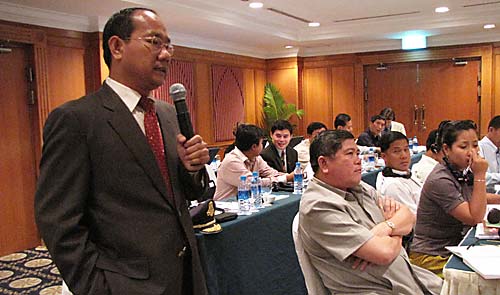 The meeting took place against a backdrop of rising organized, transnational wildlife crime in the region and was hosted by the United States Agency for International Development and the Cambodian Ministry of Justice. 
Delegates included judges and prosecutors from the ten most at-risk provinces in Cambodia, national police, Customs officials and Department of Forestry Administration officials. 
They were joined by prosecution experts from the U.S. Department of Justice and from the ASEAN Wildlife Enforcement Network (ASEAN-WEN), plus regional organizations TRAFFIC and FREELAND.
South-East Asia is a global biodiversity hotspot and home to many endemic and endangered species; it is also a major hub for the illegal wildlife trade. 
Although laws exist to penalize offenders, often those charged with wildlife-related offences walk away with minor penalties and in some cases continue with their illegal activities. 
Law enforcement officers have been appealing for stiffer penalties and higher rates of prosecution to help ensure that penalties are a sufficient deterrent to wildlife criminals. 
Earlier this year, the Cambodian government called for a crackdown on illegal forest crimes. 
ASEAN-WEN has made it a priority to support such national government initiatives by increasing the awareness of judges and prosecutors through regional judiciary workshops on wildlife crime and prosecution.
The recent workshop highlighted the importance of countering wildlife crime in Cambodia and examined potential weaknesses and loopholes in current wildlife legislation as well as examining the role forensic science could play in strengthening wildlife crime cases brought before the courts. 
The meeting was presided over by Minister of Justice H. E. Ang Vong Vathana, and the Ambassador's Office of the U.S. Embassy in Cambodia, and co-ordinated by ASEAN-WEN. 
---