Biodiversity Indicators Partnership launches tool to support making robust policy decisions
Hyderabad, India, 8th October 2012—The Biodiversity Indicators Partnership (BIP) today launched a beta-version of the Aichi Targets Passport, a new tool that provides concise indicator updates for each of the Aichi Biodiversity Targets. 
---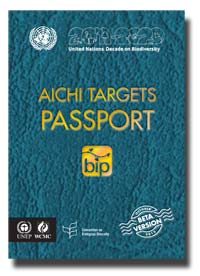 The 20 Aichi Biodiversity Targets are central to implementation of the Convention on Biological Diversity's (CBD) Strategic Plan for Biodiversity 2011-2020. 
The BIP brings together more than 40 international organizations, including TRAFFIC, working on indicator development, to provide the best available information on biodiversity trends to the global community, including the CBD, Multilateral Environmental Agreements (MEAs), the Intergovernmental Science-Policy Platform on Biodiversity and Ecosystem Services (IPBES), national and regional governments. 
TRAFFIC helped develop the Food and Medicine Indicator to examine the changing conservation status of wild animal and plant species utilized by people as a contribution to diet and healthcare. 
In many developing countries, up to 80% of people rely on biodiversity for primary healthcare, and wild harvested meat provides 30–80% of protein intake for many rural communities. Many of the wild species used for food and medicine are threatened with extinction, some due to over-exploitation, some to other pressures such as habitat loss, or a combination of factors. The diminishing availability of these resources threatens people who depend upon wildlife resources for income, health and well-being.
"Although the CBD has a Strategic Plan in place to halt the global loss of biodiversity, with 20 clearly-defined Aichi Targets, it is essential to judge how well the global community is achieving each of the targets," said Thomasina Oldfield, TRAFFIC's Programme Leader on Research and Analysis. 
"The Biodiversity Indicators Partnership and the Aichi Targets Passport are both essential to understanding how the world's biological diversity is faring as we move towards 2020." 
As well as informing decision makers on progress to date, the new Aichi Targets Passport also highlights the role the BIP and partners can play in providing assistance to countries in developing indicators for revised National Biodiversity Strategies and Action Plans (NBSAPs) and includes features on specific indicator developments.
Parties to the CBD are meeting this week at the Convention's 11th Conference of the Parties (CoP11); the Passport was launched at a side event to the main meeting.
---