Bear paws turn up in nationwide raids
Kuala Lumpur, Malaysia, 26th August 2009—Malaysia's wildlife authority has seized several protected animals and parts of wildlife including bear paws, in a string of raids across the country in the last two weeks.
---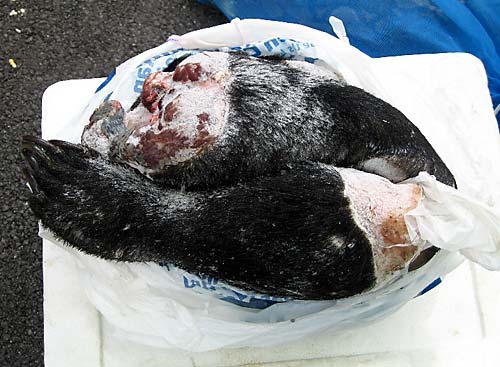 On 11th August, the Wildlife and National Parks Department (Perhilitan) found four bear paws in the cold room of a licensed trader's store in the town of Kemaman in Terengganu, a state on the east coast of Peninsular Malaysia.
Two days later, officers found an elephant tooth in a home in Triang, Pahang. On 18 August, several species of wildlife illegally kept in a shop in Sri Kembangan, in Selangor were discovered. They included two Reticulated Pythons and a pair of Water Monitors.
They also found six Black-crowned Night-herons, three Painted Storks and two Thick-billed Green-pigeons.
No arrests were made in connection with the raids.
Meanwhile on 16 August, police nabbed a Thai poacher and recovered scales of a pangolin and six sacks of agarwood (gaharu).
The arrest was made in a forested area just off the Gerik-Jeli Highway in the Belum-Temengor Forest Complex in the northern state of Perak, which shares a border with Thailand.
Police were acting on information provided by WWF's Wildlife Protection Unit (WPU), which regularly patrols the area with other enforcement agencies.
The 55-year-old poacher from Chiang Rai was among a party of five poachers ambushed by police. Four others escaped, leaving behind a camp stocked with 30 kilogrammes of rice and other essentials – indicating they were planning long-term operations.
The man now faces charges under three separate laws. Gerik District Police Chief, Superintendent Mahad Nor bin Abdullah, confirmed that the poacher would be charged under Section Six of the Immigration Act, for illegally entering the country. The poacher will also face charges under Section 64 (2) (a) of the Protection of Wildlife Act for possession of the Pangolin scales and Section 15 of the Forestry Act, for collecting agarwood without a licence.
Cases involving foreign poachers like this one, in Perak's forests, are becoming an issue of increasing concern, with several cases already documented so far this year.
These forests are home to many of the world's most threatened mammals, including Sumatran Rhinos, Malayan Tigers and Asian Elephants. 
The Belum-Temengor forest complex is also part of an area of global priority for Tiger conservation, yet it is one of the most accessible areas because of the 80-km long Gerik-Jeli highway that cuts across this landscape, providing hundreds of easy entry points for poachers.
"Together with Perhilitan and Police, the WPU have jointly-removed over 73 snares and arrested nine poachers in the last seven months in this very area," said Ahmad Zafir, leader of the WPU. "Camera traps set up to capture wildlife pictures for research also often capture photographs of poachers."
"Intelligence-led investigations are needed to remove the masterminds and backers behind the scourge of poaching and illegal trade," says Chris R. Shepherd, Acting Regional Director of TRAFFIC Southeast Asia. 
"Ridding the forests of poachers is an on-going and important task, but it is essential to remove the main culprits behind the scenes – the big dealers running the show," he added
Dato' Dr Dionysius Sharma, CEO of WWF-Malaysia, urged the government to form a multi-agency task force to address the problem.
"While Perhilitan, police and the WPU have been doing a good job so far, stopping armed poachers is dangerous work that needs the support of many agencies," he said.
Perhilitan's Legislation and Enforcement Division Director Saharudin Anan said the department would add three more posts along the country's border with Thailand and would soon host the first bilateral meeting between the two countries, on wildlife enforcement issues.
A video of some of the confiscated wildlife seized in the recent raids in Malaysia
---