Air transport operators and Cameroon Government pledge to work together to combat Illegal wildlife trade
Douala, Cameroon, April 2016—The Ministry of Forests and Wildlife, Ministry of Transport, control and law enforcement agents (Customs and police) and key air transport operators and freight companies in Cameroon have agreed to promote collaboration to combat illegal wildlife trade in the air transport sector in Cameroon.
---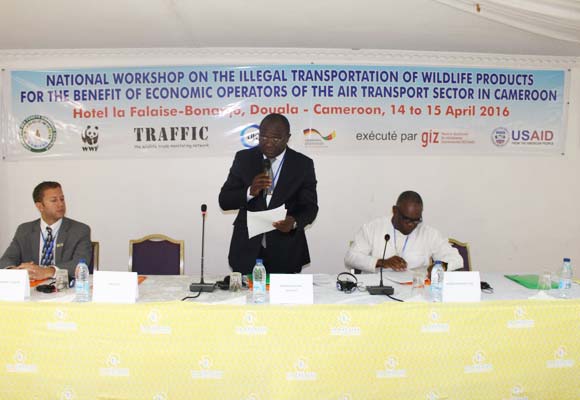 The measure is one of ten recommendations following a two-day workshop held earlier this month in Douala, Cameroon. 
The workshop brought together 65 participants from eight airlines (Air-France, Kenya Airways, ASKY airlines, Brussels Airlines, TAAG Angola, Crono airlines, CAMAIRCO, Air Cote d'Ivoire), three logistics companies (SGS, DHL, Bollore Logistics), wildlife law enforcement agents from the Ministry of Forest and Wildlife, Representatives from the Ministry of Transport as well as officials from other law enforcement agencies (Customs and police) in Cameroon. 
Technical support for the workshop was provided by experts from the United Nations Office on Drugs and Crimes (UNODC), World Customs Organization (WCO), International Aviation and Travel Authority (IATA), Supply Chain Compliance Ltd and TRAFFIC.  
The workshop was part of a global initiative by TRAFFIC to identify, in collaboration with governments and other key stakeholders, any gaps or shortcomings in the transport sector that facilitate illegal wildlife trade. The meeting built on the outputs from an earlier workshop held in Bangkok, Thailand, in January 2015.
In his opening remarks, Mr Pandong Ebwel Eitel, representing the Minister of Forests and Wildlife, congratulated TRAFFIC for this laudable initiative and called for more collaboration between the public and private sector to fight wildlife crime.
Nick Ahlers, leader of the Wildlife Trafficking, Response, Assessment and Priority Setting (Wildlife-TRAPS) Project funded by USAID, said: "As part of a global collaboration to eliminate the poaching and trafficking of illegal wildlife commodities, the transport sector can play an important role by serving as the eyes and ears of control and law enforcement authorities." 
Although airlines and logistic companies have put in place mechanisms to deter and reduce transportation of illegal wildlife products, experts at the workshop clearly illustrated that air transport is still the preferred and commonly used route by traffickers. 
Participants examined the complexity of illegal wildlife trade, smuggling methods used, routes followed and identified weak points along the supply chain exploited by traffickers and proposed solutions on how these could be mitigated by strengthening current policies, procedures and practices. 
The need for real-time information sharing, capacity building and basic equipment, especially at airports, to enhance communications and co-operation were identified as key issues to be addressed.
The Cargo Manager of Brussels Airlines, Suzanne Lembe, said, "such workshops are necessary in order to improve collaboration with wildlife services and improve knowledge particularly about new wildlife laws and other regulatory frameworks."
The workshop was organized by TRAFFIC and the Ministry of Forests and Wildlife in collaboration with the Central Africa Forest commission (COMIFAC) with financial support from the German Polifund Project and implemented by GIZ on behalf of the German Federal Ministry for Economic Cooperation and Development (BMZ) and the German Federal Ministry for Environment, Nature Conservation, Building and Nuclear Safety (BMUB). 
Additional TRAFFIC staff support was provided through the Wildlife–TRAPS Project and ROUTES partnership, both supported by the United States Agency for International Development (USAID).
---
About USAID

The United States Agency for International Development (USAID) is responsible for the majority of overseas development assistance from the United States Government and works to end extreme poverty and promote resilient, democratic societies while advancing security and prosperity for America and the world. www.usaid.gov/