African monkey meat seized in Poland
Warsaw, Poland, 29th October 2009—Customs officials have found a smoked monkey in the luggage of a female student travelling from Cameroon to attend university in Poland. 
---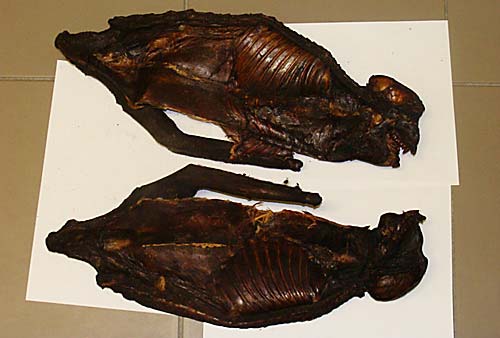 The 21 year-old was stopped as she attempted to pass through the "Nothing to Declare" channel at Warsaw international airport. 
After giving unsatisfactory answers about the unusual shape of the objects in her suitcase—first claiming they were shoes, then fish and finally a rare species of rodent, their true identity was revealed to be a 40 cm-long smoked small monkey. 
"While Customs in Poland are to be congratulated on this seizure, it surely represents only the tip of the iceberg of the illicit wild meat trade," said Magdalena Romanowicz, Head of WWF Poland's Reducing Illegal Wildlife Trade initiative.
"Further action is needed to assess the scale of such trade and clamp down on the smuggling of wild meat into the European Union, which could threaten wildlife populations in source countries and also has the potential to spread disease." 
TRAFFIC's programme in Central Africa, based in Cameroon, is investigating the wild meat (sometimes called "bushmeat") trade in the region, as well as the illegal ivory trade and sustainble use of plant forest resources. TRAFFIC's bushmeat-related work in Central Africa is funded by WWF Poland, IUCN and the German and French Governments.
---