Resurgence in travellers leads USAID to encourage Viet Nam's Tourism Sector to fight illegal wildlife trade
Today, USAID, with the Enterprise Development Foundation / Vietnam Chamber of Commerce and Industry (EDF/VCCI) and Quang Ninh Department of Tourism organized a consultation workshop with the tourism sector to address the illegal wildlife trade and promote a "Zero Tolerance to Illegal Wildlife Products" city model.
---
Even though the COVID pandemic significantly impacted Viet Nam's tourism, domestic travel is now recovering. According to the Viet Nam Tourism Administration, in 2022, 103 million Vietnamese tourists travelled within the country, and in 2023, Chinese tourists to Viet Nam might reach 4.5 million, around 50-80 per cent of pre-epidemic levels1.
This resurgence in domestic and international travellers to Viet Nam may spur greater demand for purchasing elephant ivory and other illegal wildlife products.
For example, according to a 2020 GlobeScan survey2, Viet Nam was the most visited country (among Cambodia, Hong Kong SAR, Japan, Laos, Myanmar, and Thailand) by Chinese tourists to purchase ivory or rhino horn products abroad since China's ivory trade ban in 2017.
Therefore, EDF/VCCI is partnering with the USAID Saving Threatened Wildlife project, and the tourism sector in Quang Ninh, to stop the demand for consuming and purchasing illegal wildlife products as part of the sector's efforts to develop environmentally conscious and sustainable tourism.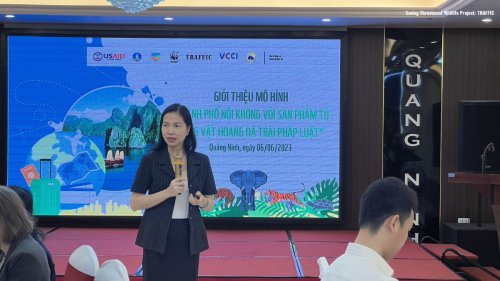 Implementing social responsibility, including protecting the environment and wildlife, is a way to build a reputable image for the businesses, hence improving their competitiveness in the country and on the international market"
Ms Le Thi Thu Thuy, Vice Director of EDF/VCCI
Today in Quang Ninh, one of the most-visited provinces by both Chinese3 and domestic travellers, 80 participants4 from the tourism sector gathered to share their experiences and solutions to combat illegal wildlife trade while promoting sustainable tourism.
"The development of sustainable and inclusive tourism, based on green growth, is a cross-cutting requirement in the Province's policies, strategies and planning. Developing tourism attractiveness through protecting and promoting national cultural values and identities, including environment and biodiversity, is at the heart of our strategy", said Ms Nguyen Thuy Yen, Vice Director of the Quang Ninh Department of Tourism.
During the workshop, the tourism sector's interests, priorities, and potential recovery opportunities after the COVID pandemic were explored. The need for the tourism industry to adapt to meet an increasing preference for tourists looking to engage in more sustainable and environmentally responsible tourism was discussed.
Importantly, participants acknowledged the need to communicate messages and initiatives protecting wildlife and to reduce activities that enabled the purchase or consumption of illegal wildlife products.
Participants also discussed the opportunity to implement a 'Zero Illegal Wildlife Products' model across Quang Ninh City.
This initiative aims to recognize the city as a place that places wildlife conservation at the heart of its core values toward green and sustainable tourism. [AP1]  The model and its implementation plan, outlining the objectives and roles of each stakeholder, received strong support from the local authorities, associations, businesses and communities and other participants for its feasibility and impact. The Quang Ninh Provincial Department of Tourism and VCCI expressed their commitment to collaborate with the project, piloting the model in the province.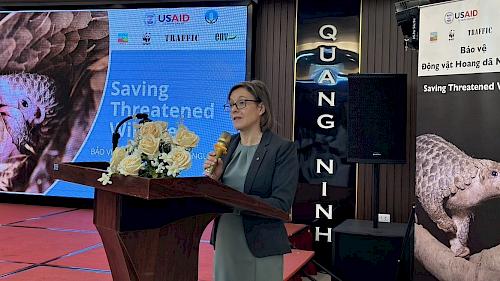 Today, the enthusiasm of the participants to test and roll out the zero illegal wildlife products model showed a real step forward in taking ownership in preventing the illegal trade of wildlife in Quang Ninh. By supporting efforts to show that  Viet Nam is not a destination for illegal wildlife products, the tourism sector is also increasing the country's attractiveness to environmentally conscious tourists."
Michelle Owen, Saving Threatened Wildlife Chief of Party.
---
Notes:
1 https://e.vnexpress.net/news/travel/number-of-chinese-visitors-to-vietnam-forecast-to-reach-4-5-million-this-year-hsbc-4567727.html#:~:text=Vietnam%20could%20receive%20three%20to,said%20in%20its%20latest%20report
2 Beyond the Ivory Ban Research on Chinese Travelers While Abroad
3 More diverse offerings of tourism products needed to lure Chinese tourists after reopening (vietnamnews.vn)
4 Participants included: leaders and senior officials of the tourism industry in Quang Ninh and tourism experts, government agencies, tourism associations, and representatives from travel agencies, tourism companies, hotels, restaurants, seaports, and cruisers.
---
The workshop was organized under the USAID Saving Threatened Wildlife, implemented by the Management Board for Forestry Projects (MBFP), MARD, WWF and TRAFFIC.
---
About USAID

The United States Agency for International Development (USAID) is responsible for the majority of overseas development assistance from the United States Government and works to end extreme poverty and promote resilient, democratic societies while advancing security and prosperity for America and the world. www.usaid.gov/
About VN Management Board for Forestry Project
The Management Board for Forestry Projects (MBFP) is a public non-business unit under the Ministry of Agriculture and Rural Development (MARD). As the owner of ODA/concessional loan-funded programs/projects, MBFP directly manages or jointly implements these programs/projects in forestry and rural development nationwide. 
MBFP Website
WWF

WWF is an independent conservation organization, with over 30 million supporters and a global network active in over 100 countries. WWF's mission is to stop the degradation of the Earth's natural environment and to build a future in which humans live in harmony with nature, by conserving the world's biological diversity, ensuring that the use of renewable natural resources is sustainable, and promoting the reduction of pollution and wasteful consumption. Visit www.panda.org/news for the latest news and media resources and follow us on Twitter @WWF_media.