New study finds Bali a veritable emporium for birds from around Indonesia
Petaling Jaya, Malaysia, 17th September 2019—A new study of Bali's bird markets is showing the famed holiday isle draws more than just tourists—it's also an emporium for wild birds sourced from other parts of Indonesia including species of critical concern. 
---
Researchers found 5,228 birds of 129 species during a 2017 inventory and 7,258 birds of 144 species a year later in two of Bali's largest bird markets. Both markets were located in the capital of Denpasar.
While the bulk of species recorded in both years originated from Bali and Java, the study found that Bali's markets contained a higher proportion of birds from eastern Indonesia (7.8% of birds from the Lesser Sundas, Sulawesi, Maluku and Papua in 2018 and 2.8% in 2017) compared with TRAFFIC's previous surveys of markets in Jakarta  (0.7%) and eastern and central Java (1.9%).
In 2018, researchers also recorded more species not typically seen in trade from less accessible locations such as Indonesian islands and montane habitats, than they did in 2017—apparently a shift in sourcing as species closer to home have been depleted through over-exploitation. 
This study shows just how quickly the markets adapt to feed demand when species depletions occur and birds are sourced from further afield, with vendors seemingly unconcerned about legislation or species protection
Kanitha Krishnasamy, TRAFFIC's Director for Southeast Asia.
In 2018, a new list of protected species was passed by the Indonesian government. Although overall the new legislation affords protection for a higher number of species including birds, strong lobbying by hobbyists saw a number of birds popular in trade removed from protection including White-rumped Shama Kittacincla malabarica, Javan Pied Starling Gracupica jalla, Straw-headed Bulbul Pycnonotus zeylanicus, Sangihe Whistler Coracornis sangihe and Little Shrikethrush Colluricincla megarhyncha.
"We hope Indonesian authorities utilise information from trade surveys to make informed decisions regarding species protection, trade regulation and legislation reviews," said Serene Chng, TRAFFIC's lead author and co-coordinator of the IUCN SSC Asian Songbird Trade Specialist Group. "This could lead to a much better management of a trade that has been subjected to so much scrutiny over the past decades."
Javan Pied Starling, Sumatran Laughingthrush Garrulax bicolor, and Greater Green Leafbird Chloropsis sonnerati were among the top 30 species traded. These species of concern are also on the IUCN SSC Asian Songbird Trade Specialist Group's list of species in need of priority conservation action.
Authors of In the market for extinction: the cage bird trade in Bali said the discovery underlined the open, easy availability and display of species threatened predominantly by trade in Indonesian bird markets. The overwhelming majority of such birds are believed to be wild-sourced. Among the thousands observed for sale in Bali were a total of eight threatened species over the two years, with seven of them common to both years. 
"Continued monitoring of trade is so important. Relevant parties can then determine if a reduction in supply of a species is directly linked to trapping pressures, and if so, wild capture for trade should be prohibited for these species to prevent extinction in the wild," said Dr Sonja Luz, Director of Conservation, Research and Veterinary Services of Wildlife Reserves Singapore, TRAFFIC's long-time supporter and donor for this work.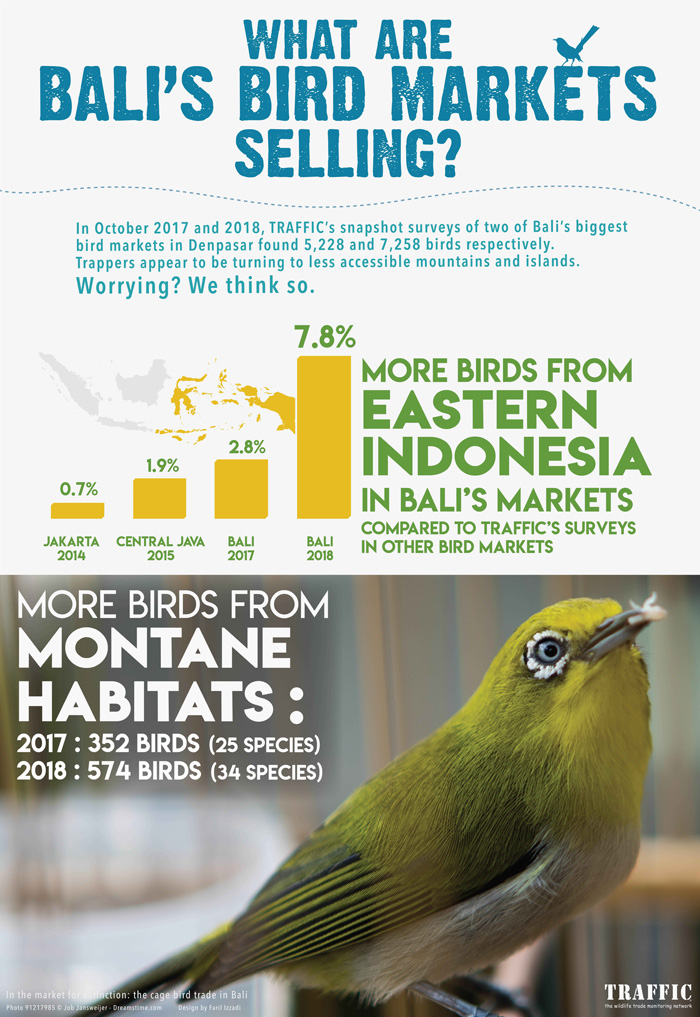 ---