Kuala Lumpur Airport hosts roadshow to raise awareness of wildlife trafficking by air
Kuala Lumpur, Malaysia, 22nd November 2017—The message that passengers, airports and airlines can play major role in combatting wildlife trafficking was shared with thousands of travellers and flight crew at a recent roadshow at the Kuala Lumpur International Airport (KLIA), which has seen dozens of wildlife seizures in the past year.
---
This message was delivered through the Anti Human & Wildlife Trafficking Roadshow, organized by Malaysia Aviation Group (MAG) which includes the country's flagship airline Malaysia Airlines Berhad. The roadshow was held with the support of Malaysia Airports Berhad, which manages KLIA. TRAFFIC was among exhibitors at the three-day event.
The roadshow was marked by the Group's announcement that it had taken on a zero-tolerance policy against wildlife trafficking and would continue to reinforce its role by helping to shut down illegal wildlife trafficking by air.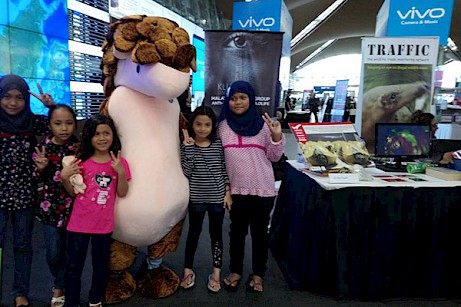 The airline, a signatory to the Buckingham Declaration, has so far engaged 4000 staff on wildlife trafficking issues. It also engages passengers and travellers on the topic through anti-wildlife trafficking messages on all countertop check-in posters and awareness videos on their in-flight entertainment systems. 
Next month, the airline will host TRAFFIC for a half-day training event for all airport stakeholders under the USAID-Funded Reducing Opportunities for Unlawful Transport of Endangered Species (ROUTES) Partnership. 
The event was launched by Malaysia's Deputy Home Affairs Minister Dato Masir Kujat and in attendance was United States Ambassador to Malaysia, Her Excellency Madam Kamala Shirin Lakhdhir who spoke in support of the cause.
During the event, TRAFFIC staff and volunteers engaged with travellers through exhibits which focused on encouraging travellers to holiday responsibly by not purchasing souvenirs made of wildlife parts, avoiding the consumption of exotic meat as well as reporting any suspected illegal wildlife activity. Awareness videos by TRAFFIC were also displayed on TV screens at the airport during the period.
This is TRAFFIC's third exhibition on wildlife trade issues with Malaysia Airlines Berhad. It has also periodically participated in the Airline's programme to engage its staff on the role of transport and logistics providers in fighting wildlife crime.
The Kuala Lumpur International Airport has come under the spotlight in recent years for its role as a transit hub in the smuggling of wildlife parts from Africa to Asia. Over the past year, Customs officials at the airport have seized significant amounts of African ivory, rhino horns, pangolin scales and freshwater tortoises, largely from cargo. 
In August, the Royal Malaysian Customs made their eighth seizure of African pangolin scales and elephant ivory at the KLIA, bringing their total haul for the year to a staggering 1.7 tonnes of pangolin scales and 958 kg of ivory.
Wildlife traffickers are exploiting the increasingly fast and efficient transport networks around the world, including in Malaysia, and airlines and airports need to put in place or improve systems and protocols that will stop such abuse and help disrupt criminal networks.
Kanitha Krishnasamy, Acting Regional Director for TRAFFIC in Southeast Asia.
"It's great to see interest from the airports and the airlines in Malaysia. We hope to see them maintain the momentum not just to raise awareness on illegal wildlife trade, but also effect changes in their systems that will support enforcement efforts against wildlife traffickers."
---