Thailand crushes two tonnes of confiscated ivory
Bangkok, Thailand, 26th August 2015—Thailand today crushed more than 2 tonnes of confiscated ivory following a rigorous audit process overseen by WWF-Thailand and Freeland. 
---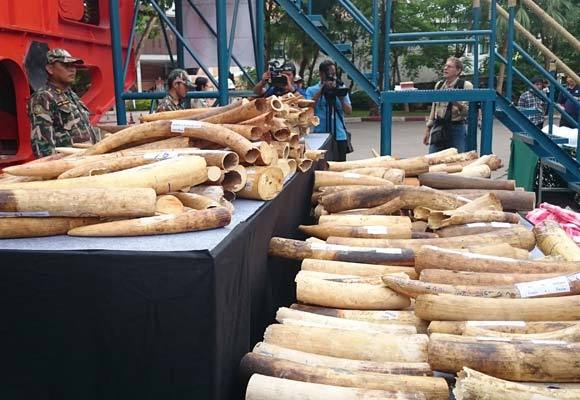 The Prime Minister H. E Gen. Prayut Chan-O-Cha acknowledged TRAFFIC for assistance in the process, in his address at the event. The crush took place at a time when Thailand is reforming its ivory markets as part of the country's stand against the illegal ivory trade. Around 30,000 African Elephants are poached every year for their ivory, which is mainly destined for markets in Asia, including Thailand. 
The destroyed ivory came from stockpiles held by the Customs Department and Department of National Parks, Wildlife and Plant Conservation and was from seizures in completed criminal cases. Several ivory samples have been retained for forensic analysis to determine their origin. 
"Thailand is wholeheartedly joining the worldwide efforts to end the illegal ivory trade that is fueling the poaching of Africa's elephants and lining the pockets of organized criminals," said Tom Milliken, TRAFFIC's lead on elephant issues. 
"TRAFFIC, as the only NGO regularly monitoring the Thai ivory market, is well-placed to determine what impact this event has on market prices and the demand that ultimately drives the trade."  
In 2013, Thailand came under intense global pressure to shut down its national ivory market or potentially face trade sanctions under the Convention on International Trade in Endangered Species of Wild Fauna and Flora (CITES).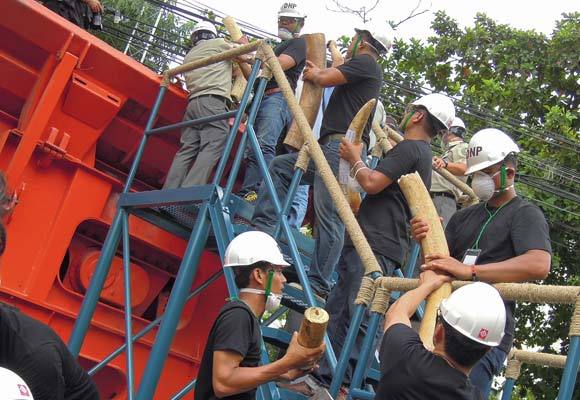 The government responded by drawing up a National Ivory Action Plan and passed an historic Elephant Ivory Act in January 2015. The Act is aimed at regulating the existing legal market in ivory from domesticated, privately-owned Asian Elephants and requires owners and traders to register their ivory. Around 220 tonnes of ivory was registered by more than 44,000 private citizens earlier this year, numbers that surprised even informed observers. 
The government has also amended the country's existing Wild Animal Reservation and Protection Act, making African Elephants a protected species in Thailand, thus barring the sale of African Elephant ivory. 
While the ivory market reforms to date are very welcome and led to an immediate drop in ivory availability when first introduced in April 2015, there are a number of steps still to be taken to ensure the new legislation can be fully implemented and enforced. 
"Right now, ivory shops are opening once again but the products on display do not appear to be part of any kind of marking system so one has to question whether the ivory control system will effectively prevent laundering of illegal ivory into the marketplace," said Milliken. 
The details of the emerging registration scheme for legal trade in ivory still need to be finalized. They include determining how legal ivory and retail sellers will be tracked under the new scheme, the nature of any sales certificates issued, the drawing up of market inspection protocols, the setting of penalties for non-compliance and how the system's effectiveness will be monitored. Another crucial issue is how any online trade in ivory will be regulated. 
"Clamping down on the online marketplace for ivory creates serious enforcement challenges.  The best solution is to forbid the sale of ivory over the internet in Thailand" said Milliken.
TRAFFIC provided guidance on the ivory auditing process, which followed the methodology developed during the auditing of Gabon's ivory stockpiles prior to their incineration in 2012.
---