Southeast Asia officers level up on CITES enforcement
Enforcement officers new to the fight against wildlife crime have put a suite of TRAFFIC resources and newly developed materials to the test in a series of trainings in Southeast Asia.
---
The face-to-face trainings with newly designed materials have been critical in bringing up-to-date information and tools to frontliners in some of the region's major wildlife trade hotspots. However, staff turnover, regulatory changes, and evolving trends in wildlife crime mean there is a constant need for training."
Renee Yee, TRAFFIC's Training and Capacity Building Officer in Southeast Asia
Introductory CITES-focused courses in Thailand and Lao PDR
More than 100 officers in Thailand and Lao PDR were introduced to issues facing the Mekong region through a video that describes its continuing struggle to address wildlife crime and the need to ramp up anti-trafficking efforts.
TRAFFIC also employed its guide to identifying commonly trafficked species and a handy pocket guide specific to the region's trafficked species. 
These resources focused on building the enforcers' understanding of processes and rules concerning cross-border wildlife trade, which is governed according to CITES.
"In a region that serves as a source, transit point and destination for illicit wildlife trade, officers with training and knowledge will make the difference. For example, the presence of an enforcer at major gateways, on the lookout for wildlife crime and able to act with confidence, is a critical disruption in traffickers' path," said Yee. 
Sessions were held in Chiang Khong in Thailand and Vang Vieng in Lao PDR in April and June and included wildlife and forestry officers, police, customs officers, and prosecutors who work in various provinces in the two countries. The trainings were organized jointly with WWF-GMP and funded by United States Department of State, Bureau of International Narcotics and Law Enforcement Affairs (INL) under the Fighting Wildlife Trafficking in the Golden Triangle project. 
Under this project, TRAFFIC is also developing a training video on wildlife trade regulation focusing on CITES enforcement in English, Thai, and Lao, and is expected to bring training to a much wider regional audience once completed. Training videos in the local language will enable agencies to conduct training at a minimal cost, often and quickly to many more officers whose job it is to regulate wildlife trade and act against wildlife crime.
TRAFFIC's training and capacity building team in Southeast Asia is also developing a toolkit that will guide enforcement agencies on how to carry out the training themselves - for use beyond the life of this project. The toolkit will be made available online once completed.
Engaging with new enforcement audiences in Malaysia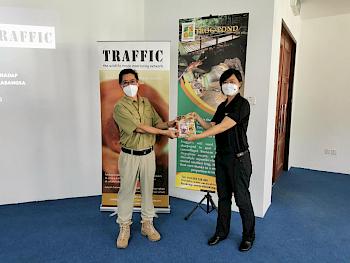 These tools have also been used at other CITES training courses in the states of Sarawak and Sabah in Malaysia under a separate project* funded by United States Fish and Wildlife Service's Forensic Laboratory (USFWS) to strengthen enforcement and reduce illegal trade in CITES-listed species.
The training in Sarawak brought together selected enforcement and protection officers new to CITES-related trade. As participants came from wildlife enforcement units in each state district, this allowed for in-depth discussions between officers of different districts. This workshop was hosted by the Sarawak Forestry Corporation (SFC). 
In this workshop, officers learnt about identifying species, how they are listed in the CITES appendices, rules around the issuance of permits, smuggling methods and the growing illegal online wildlife trade.
TRAFFIC's training team also took training resources, like the recently published Expanded wildlife identification guide, to a new audience in Sabah and engaged with newly recruited wildlife rangers and officers working at the central Customs Immigration and Quarantine complex, which monitors the trade in plants and animals through the state.
The workshops provided an avenue for discussion on gaps, challenges, and solutions to crime. Officers in both sessions reported an increase in online wildlife trade and shared the many challenges they faced investigating and prosecuting such cases.
As the next Convention on International Trade in Endangered Species of Wild Fauna and Flora (CITES) Conference of Parties (CoP) is on the horizon, TRAFFIC Southeast Asia has continued efforts to share knowledge with law enforcement in the region.
---
Notes:
*Strengthening Malaysia's Effectiveness in Implementing and Enforcing CITES in Order to Reduce Illegal Trade of CITES-Listed Species 
---