Kerala enforcement agencies ready to tackle wildlife crime
Kerala, India, August 2015—More than 55 enforcement officials, including those from 13 forest divisions in Kerala, the Police Department and the Customs and Central Excise Department in the State of Kerala have just completed two-days of intensive wildlife law enforcement capacity building training. 
---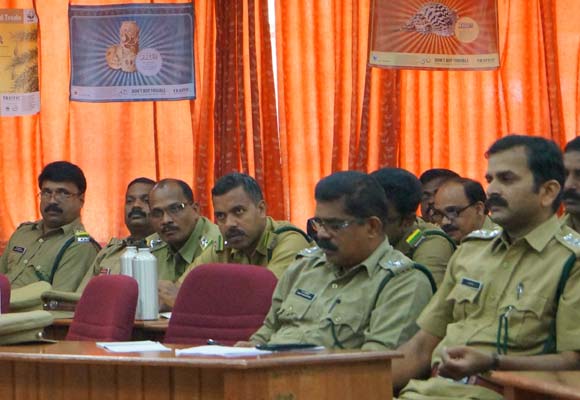 TRAFFIC and WWF-India, in partnership with the Parambikulam Tiger Conservation Foundation (PTCF) and Wildlife Crime Control Bureau (WCCB), organized the event which was held at Parambikulam Tiger Reserve in the interior of the Western Ghats, home to 50 Tigers. 
Opening the meeting, Mr Anjan Kumar, Deputy Director and Chairperson of the PTCF spoke about how the event had arisen following positive feedback from staff who attended a three State TRAFFIC-convened workshop in Coimbatore in November 2014. 
Dr Shekhar Kumar Niraj, Head of TRAFFIC in India, spoke about the rich biodiversity and high endemism of the wildlife found in the Anaimalai-Parambikulam landscape of the southern Western Ghats, which is at risk from poaching and illegal wildlife trade. 
He gave an overview of illegal wildlife trade in India and presented the latest information on wildlife trade trends, the various drivers of illegal wildlife trade and poaching, the species involved in trade and what lay behind the domestic and international demand for wildlife. 
"Recent information indicates that children as young as nine and ten are being taught wildlife poaching techniques, while highly educated youths are trading in high demand wildlife species. This will potentially lead to serious socio-economic problems in the future," said Dr Niraj. 
Mr Varun Kapoor, Inspector General of Police (IGP) and Director, Police Radio Training School in Indore, Madhya Pradesh, spoke of the need for collaborative efforts between police and forest officials to combat the menace of wildlife crime and illegal trade in the country effectively. 
Experts in various fields hosted specialized sessions on wildlife laws and their application, species and specimen identification, the illegal bird trade and DNA fingerprinting and wildlife forensics. The WCCB's Mr A Madhivanan discussed intelligence collection, market surveys and confiscation of wildlife products. Dr B.C. Choudhury, a well-known marine scientist, spoke about the threats to the marine and coastal environment owing to a lack of knowledge and awareness about the species in trade. 
Participants also received an intensive hands-on field training session on surveillance, seizure and interrogation, wildlife crime scene investigation, identifying and dismantling poaching traps, suspect interrogation, sample collection and packaging, and utilization of deep search metal detectors from Tamil Nadu-based Special Task Force trainers. Afterwards, TRAFFIC presented a deep search metal detector to Parambikulam Tiger Reserve staff.
---