Guide to Kalimantan's protected species launched
Pontianak, West Kalimantan, Indonesia, 12 December 2007—A pocket guide to help enforcement authorities identify protected wildlife species in trade was launched today in Pontianak, Indonesia. 
---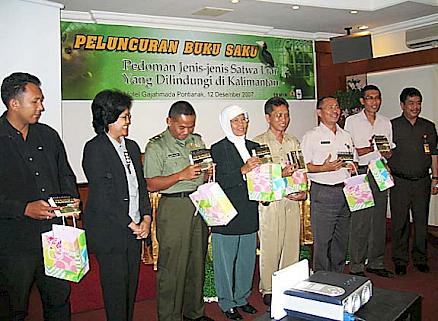 The guide was published as part of a law enforcement project in West Kalimantan between TRAFFIC, the wildlife trade monitoring network, WWF-Indonesia and the Directorate of Forest Protection and Nature Conservation, Government of Indonesia.
"The idea for this guidebook was conceived in 2006 during a law enforcement workshop to combat illegal wildlife trade in Pontianak," said Julia Ng, TRAFFIC's programme officer.
"Many of the government participants asked for an easy reference identification guide to help them recognize species that are traded illegally." 
"As TRAFFIC is committed to working with the Indonesian government to combat the illegal wildlife trade, we decided that such an important request should not be ignored."
The guide covers 123 species from five classes—mammals, birds, reptiles, fish and insects—and provides information at a glance on each species covered, its family, the Indonesian and English common names, the Indonesian law that protects it and whether it is listed under the CITES appendices and the IUCN Red List of Endangered Species.
"TRAFFIC hopes this guidebook will be useful to enforcement authorities in charge of combating illegal wildlife trade and will help raise awareness among people in Kalimantan living at the forest fringes to inform them about wildlife species that can be harvested and those that are protected," added Dr Ani Mardiastuti, TRAFFIC's co-ordinator for Indonesia. 
Kalimantan occupies the southern two-thirds of the island of Borneo and comprises four provinces: West, Central, South and East Kalimantan. 
Kalimantan is rich in biodiversity and the cultural use of wildlife by society there is widespread. Unfortunately, illegal and unsustainable wildlife trade is widespread throughout the region too, and a great deal of effort is needed to combat it.
The guidebook will be distributed to all government enforcement authorities in Kalimantan and also to the general public in the coming months.
---