CITES: Commercially traded species big losers
The Hague, The Netherlands, 15 June 2007 – The 14th CITES Conference ended today with TRAFFIC and WWF applauding some sound conservation decisions, but ruing other missed opportunities.
---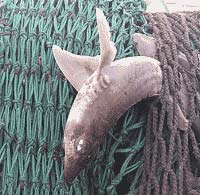 "In some respects, the conference has been a success, with some key decisions taken on eels, sawfishes, elephants and tigers, but it's a serious concern that countries missed the opportunity to assist with conservation of several commercially traded species," said Dr Susan Lieberman, Director of WWF Global Species Programme.
"TRAFFIC and WWF are pleased with some decisions taken at this CITES meeting," said Steven Broad, Executive Director of TRAFFIC, the wildlife trade monitoring network.
"But getting species listed is just the start. Underpinning the success of all decisions taken here is the need for strong political will and sound law enforcement."
The unveiling of the European Union's Enforcement Action Plan to combat illegal wildlife trade and support countries that export wildlife was a positive step in the right direction, TRAFFIC and WWF added. However, the two organizations also warned that enforcement globally needs money and were disappointed that Parties failed to come up with sufficient extra funding to implement the Convention and assist countries with enforcement and capacity building.
Compromise on African elephants
As usual, African elephants dominated many of the conference discussions. Just prior to the CITES meeting, a limited sale of ivory from three southern African countries was given formal approval, whilst on the penultimate day of CITES, following some tense negotiations, Zambia and Chad presented a compromise document on behalf of all African elephant range States.
The document, which was adopted by consensus, allows an increase in the one-off sale of ivory to include ivory from stockpiles from Botswana, South Africa, Namibia and Zimbabwe, which have accumulated since 2002. After the sale, there will be a nine-year suspension of further sales of raw ivory.
"For the first time in almost 20 years, opposing factions were speaking with one voice to move the ivory debate forward, but the key issues of how to tackle elephant poaching and illegal domestic ivory markets in Africa and Asia remain unanswered," said Lieberman.
Strong decision against tiger farms
A notable conservation success was the decision, adopted by consensus, to reject the raising of captive tigers for trade in tiger parts, and to phase out its large-scale commercial tiger farms. Meanwhile, in a surprise announcement, the CITES Secretariat said it had asked the Chinese government to investigate a tiger farm implicated in illegally selling tiger meat.
"The world clearly urged China not to reopen any trade in tiger parts and to increase protection for tigers in the wild," said Lieberman.
Recommendations for rhinos
New TRAFFIC research presented at the conference revealed an alarming increase in the volume of rhino horn entering illegal trade since 2000. The recommendations of the report for better law enforcement and protection measures for African rhinos were adopted by the Parties.
Mixed fortunes for sharks
WWF and TRAFFIC regret that delegates did not list two shark species – Spiny dogfish and porbeagle – on Appendix II, which allows trade under strict conditions. However, both organizations hail the listing of all except one species of sawfish – ray-like sharks – on Appendix I, which prevents all commercial trade. The single exception was listed on Appendix II.
"The failure to list Spiny dogfish and porbeagle sharks was especially disappointing," said Steven Broad.
"This meeting could go down in history as a critical missed opportunity to halt the decline of these important fisheries."
Most timber proposals withdrawn
The EU withdrew its proposal to include Cedrela – a group of tropical tree species found in Latin America – after facing hostile pressure from Latin American and Caribbean countries. WWF and TRAFFIC are disappointed that a golden opportunity was missed to use a CITES listing to ensure better management and measures to control trade of this threatened species. 
"It took ten years to include another tropical tree, big-leaf mahogany, on CITES Appendix II and, as a result, this species is now on the verge of commercial extinction," said Cliona O'Brien, Senior Policy Analyst, WWF's Global Species Programme.
"The same is likely to happen with Cedrela if the current exploitation levels continue."
All the other proposals to list tropical timber species on Appendix II were withdrawn, with one exception – Brazil wood was listed with an amendment to exclude certain items made from it, such as musical bows.
Better protection for the European eel
European eels have declined throughout most of the species's distribution area and are now threatened due to over-exploitation and pollution. The listing of the European eel on Appendix II means that this negative trend could be halted, WWF and TRAFFIC believe.
"The success of the EU proposal on European eels will help ensure trade in this species is well-managed and legal, which is essential to its survival. It is a conservation achievement," said TRAFFIC's Stéphane Ringuet.
Trade in pink, red and other corals remain unprotected
The listing on Appendix II of red, pink and other coral species in the genus Corallium, was overturned in the plenary. WWF and TRAFFIC say these corals, which are used mainly for the manufacture of jewellery, have been over-harvested as a result of lack of international trade controls and consistent management plan.
"These corals will continue to suffer from this free-for-all situation," said Steven Broad.
"Today's decision was a question of expediency rather than a fully examination of the facts. Commercial lobbying won through."
Strategic vision
The Conference of the Parties also adopted an ambitious new Strategic Vision that attempts to link CITES to the broader conservation and development agenda.
"CITES member countries now need to step up their efforts to secure the resources needed to meet the goals they have set for themselves, especially the support needed by developing countries to manage wildlife trade at sustainable levels," said Broad.
---