Zoo visitors urged to #ChooseYourSide on the World Pangolin Day 2019
New Delhi, 15th February 2018—On the eve of #WorldPangolinDay 2019, TRAFFIC, in collaboration with WWF-India, the Wildlife Crime Control Bureau, and the National Zoological Park (NZP), New Delhi is urging the public in India to help decide the future of pangolins by "choosing their side" through the message "Pangolin in Wild or Pangolins in Illegal wildlife trade".
---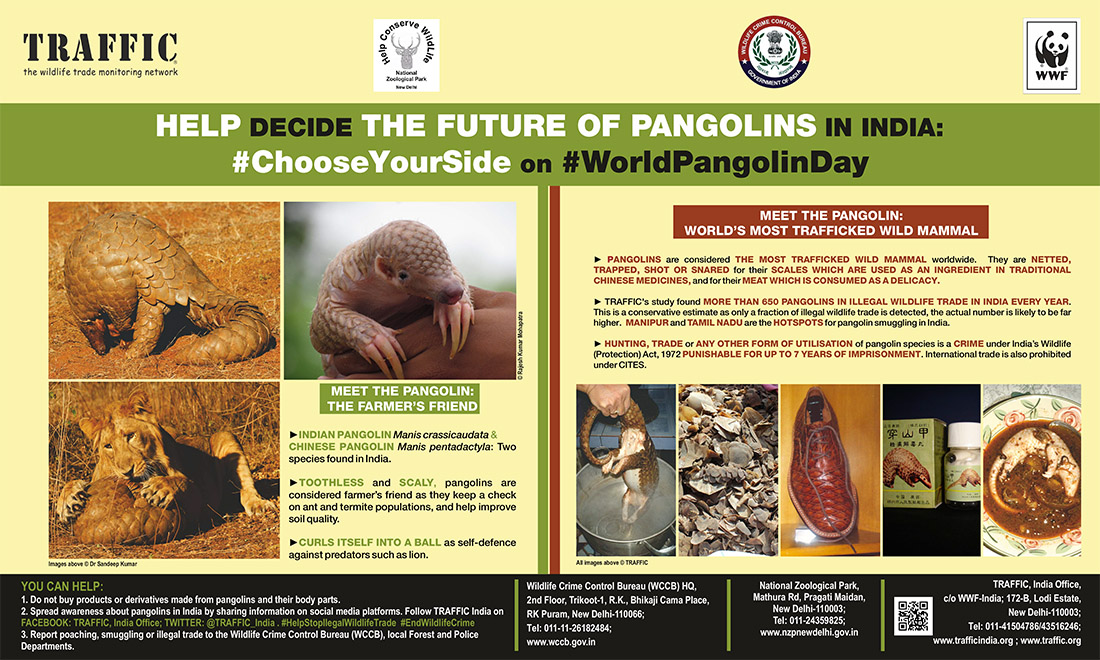 This message has been displayed through an informative bill board installed at New Delhi's NZP to coincide with World Pangolin Day celebrations on the 16th February 2019.
Last year, TRAFFIC's study found nearly 6,000 pangolins in illegal wildlife trade in India between 2009–2017, representing close to 650 pangolins trafficked each year since 2009. This is likely to be a conservative estimate as only a fraction of illegal wildlife trade is detected. The study also found the states of Manipur and Tamil Nadu to be hotspots for pangolin smuggling, based on the volume and frequency of the seizures that took place in the regions.
India is home to two species of pangolins—the Indian Pangolin Manis crassicaudata and the Chinese Pangolin Manis pentadactyla. Hunting and trade in both the pangolin species is banned under India's Wildlife (Protection) Act, 1972, while international trade is prohibited under the Convention on International Trade In Endangered Species of Wild Fauna and Flora (CITES).
In their native habitats, pangolins are considered to be "farmer's friends", given they help control populations of ants and termites while simultaneously improving soil quality. This makes ensuring their protection from poaching and smuggling an important local issue in many Indian provinces.
Improving our understanding about this elusive animal is important for curbing illegal trade. Pangolin poaching and smuggling is driven by consumer demand, if the demand stops the supply of pangolins in illegal wildlife trade will eventually cease to exist
Dr Saket Badola, Director of TRAFFIC's India office"At TRAFFIC, we strongly believe in raising awareness about species among consumers in order to garner their support for their conservation and protection. We hope that through initiatives such as this people will show their support for Pangolins in the Wild".
Ms Renu Singh, Director of NZP, New Delhi adds, "Zoos are an important place for students, younger generations, and the general public to see wild animals and learn about them. As the NZP in New Delhi receives many visitors every year it's a powerful forum for increasing knowledge about the threats they face. We welcome this informative board highlighting threats to pangolins this World Pangolin Day".
World Pangolin Day is celebrated on the third Saturday in February every year, with the eighth such event taking place on 16 February 2019. World Pangolin Day is an opportunity to raise awareness about these unique mammals.
---
Notes:
Support our work to protect threatened wildlife like pangolins from poachers and illegal trade.
---