Viet Nam and Indonesia collaborate to tackle illegal wildlife trade
Hai Phong, Viet Nam, 10th August 2010—Indonesian wildlife trade enforcement officials met their Vietnamese counterparts in Hai Phong city last week for a first bilateral dialogue on collaboration against illegal wildlife trade between the two countries.
---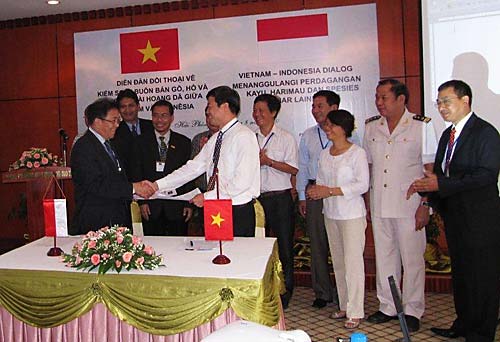 The two day meeting focused on the need for increased sharing of information and experience between wildlife enforcement agencies. In particular, concerns were shared about the trafficking of pangolins, Tigers and timber, out of Indonesia's biodiversity rich forests.
During the forum Indonesia highlighted the many cases of pangolins being trafficked from Indonesia to Viet Nam and called for greater joint effort on the issue.
The Indonesian delegation raised the need for a clear data sharing mechanism between agencies in the two countries, particularly regarding details of interdicted wildlife criminals. They cited recent cases of co-operation between the two countries as a good start, and called upon their Vietnamese counterparts to help develop better mechanisms to convey information that might help garner convictions. 
"The fight against illegal wildlife trade is never an easy task for any country to handle," said Indonesia's head of delegation, Ir. M. Awriya Ibrahim who is also the Director of Investigation and Forest Protection of the Indonesian Forestry Ministry.
"However we could work hand in hand, share information, discuss problems and keep in close contact with one another and then the task can become easier," he added making specific reference to stopping pangolin traffickers and prosecuting them.
Viet Nam recommended exchange of information and experience on issues of timber legality, co-operation in conservation of Javan Rhinoceros, Tigers and management of national forests.
Together with increased global and regional trade integration, illegal trade and transport of wood and endangered wildlife in the region has worsened. 
Dr Ha Cong Tuan, Vice-Director of the Forestry Directorate of Viet Nam of the Ministry of Agriculture and Rural Development noted that in order to curb illegal activities while facilitating legal trade in wildlife, such as adaption to the EU Forest Law Enforcement, Governance and Trade (EU-FLEGT) and Lacey Act requirements, it would be essential for relevant bodies in the two countries to strengthen their bonds for better sharing and co-operation. 
In 2003, the EU adopted the FLEGT action plan to combat illegal logging and the associated trade. The Lacey Act was the first law of its kind to prohibit the import, sale or trade of wood and wood products in the USA that were illegally-harvested in their country of origin. Companies importing timber products to the US will need suppliers, such as mills and manufacturers from across South-East Asia, to understand their role in ensuring compliance with the revised regulations. 
TRAFFIC's Regional Director for Southeast Asia, Dr William Schaedla expressed optimism about the meeting. "Indonesia and Viet Nam are off to a good start, particularly in their discussions about information sharing. If they can formalize things going forward, it should make for much better protection of many species."
The bilateral dialogue was supported by the World Bank's Global Environment Facility (GEF), Wildlife Conservation Society (WCS) and TRAFFIC and brought together senior officials from Viet Nam's Forestry Directorate, Customs Anti-smuggling Department, and Environmental Police and Indonesia's Ministry of Forestry, Special Investigations Police and Customs and Excise officers.
---