Malaysians arrested in Jakarta with bags full of reptiles
Jakarta, Indonesia, 4th April 2016—Two Malaysian men were arrested at Jakarta's Soekarno-Hatta International Airport last Tuesday as they tried to smuggle 23 reptiles and amphibians hidden in their luggage.
---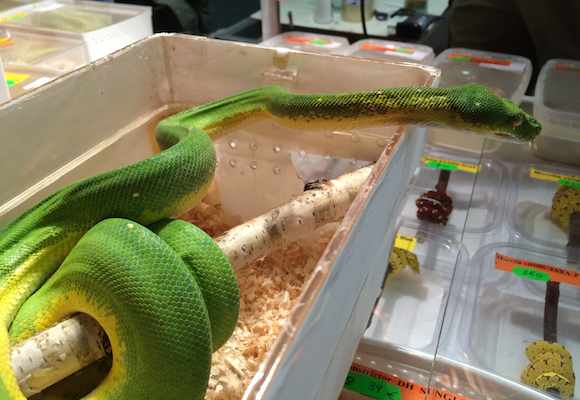 The men who were destined to board flight to Kuala Lumpur, Malaysia were stopped by Quarantine officials who noticed something odd in the X-ray scans of their luggage.
Upon inspection, officers found seven pythons including Green Tree Pythons Morelia viridis, seven lizards and nine frogs in the bags.
The Green Tree Python is Totally Protected in Indonesia and listed in Appendix II of the Convention on International Trade in Endangered Species of Wild Fauna and Flora (CITES).  
The arrested individuals did not have required documentation for any of the species seized and were handed over to wildlife authorities for further investigations.
International demand for the pet trade continues to put enormous pressure on Indonesia's wildlife, and drives smuggling activities and the black market.  
"Efforts such as the enforcement action taken in this case in Indonesia are essential," said Dr Chris R. Shepherd, TRAFFIC Regional Director in Southeast Asia.
"Indonesia, with its amazing diversity of reptiles and amphibians, remains a major target for smugglers and illicit wildlife dealers and we urge authorities to maintain their vigilance."
Shepherd also called on Indonesia to work closely with neighbouring Malaysia to tackle the issue of wildlife smuggling for the pet market between the two countries as this was not the first case on record.  In July last year, Malaysian wildlife authorities arrested two local men and two Indonesian nationals trading juvenile orangutans that had been advertised online.
---