India doubles number of sniffer dogs for wildlife protection
Bhopal, India, 20th June 2015—Today's passing out parade, alongside a magnificent display of the skills learned for curbing wildlife crime by 14 sniffer dogs and their 28 handlers at the 23rd Battalion of Special Armed Forces, Bhopal, Madhya Pradesh, mark a doubling in numbers of India's wildlife sniffer dogs. 
---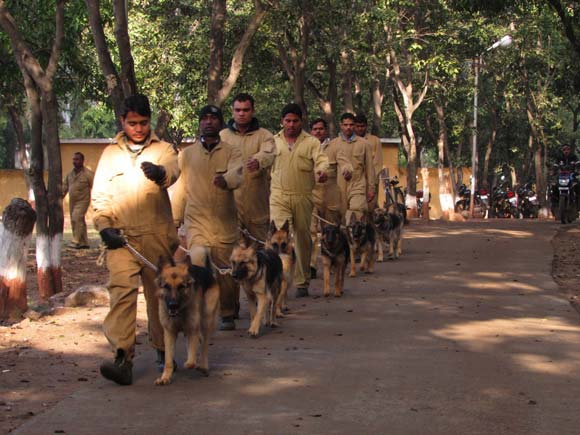 The dogs will now be deployed by seven Tiger bearing States across India—Madhya Pradesh, Assam, Uttarakhand, Maharashtra, Tamil Nadu, Jharkhand and Karnataka.
The 14 dogs and their 28 handlers have been trained under a programme conducted by TRAFFIC, the wildlife trade monitoring network, which in India is based in New Delhi where it functions as a programme division of WWF-India. The sniffer dog training programme is jointly funded by TRAFFIC and WWF-India.
The dogs are trained for sniffing out wildlife products such as Tiger and Leopard bones and skins and bear bile, and are also detecting other wildlife contraband once deployed in the field.
Starting in 2008, 13 sniffer dogs have already been trained and later deployed at key sites for detection and prevention of wildlife crime where they have been involved in more than 100 significant wildlife seizure cases in recent years. Jimmy, one of TRAFFIC's sniffer dogs, was awarded a Certificate of Merit by the Governor of Madhya Pradesh in 2013 after the dog helped bust at least 25 wildlife poaching and smuggling cases.
The chief guest for the programme held in Bhopal today was Mr Narendra Kumar, IFS, PCCF and CWLW, Government of Madhya Pradesh and the guest of honour at the programme was Mr KN Tiwari, ADGP, Special Armed Forces, Government of Madhya Pradesh. The programme was also attended by senior police and forest officials from Madhya Pradesh.  
Mr Narendra Kumar, IFS, PCCF and CWLW, Govt. of Madhya Pradesh in his opening remarks congratulated TRAFFIC and WWF-India for their efforts in leading the sniffer dog programme in India. He emphasized the use of sniffer dogs in effective wildlife crime prevention and detection in India. He also congratulated the Dog Training Centre in Bhopal for their continuous support for this programme. Mr Kumar has been a strong supporter of the wildlife sniffer dog programme and continues to take a keen interest in their activities.
Mr KN Tiwari, ADGP, Special Armed Forces, Government of Madhya Pradesh further added "Enforcement agencies across India have long-term experience of using and handling sniffer dogs for conducting seizures and curbing crime. We are glad to see their emerging role in combating wildlife crime and illegal wildlife trade in India. We hope that many more State forest departments deploy sniffer dogs and use them in their wildlife law enforcement endeavors."
Dr Shekhar Kumar Niraj, Head of TRAFFIC in India said, "India has a huge area and with only 27 trained sniffer dogs, pressure for protecting India's wildlife is immense on these four legged creatures. It is TRAFFIC's vision that at least four to five dogs are deployed in each State over the next few years for boosting wildlife conservation and protection efforts."
Mr Ravi Singh, SG and CEO, WWF-India further added, "India's wildlife is under grave danger from the ever increasing illegal wildlife trade. Poachers and traders are employing new tools and technologies to expand their illicit business and this is proving to be a major challenge for the forest department and other enforcement agencies. Use of sniffer dogs for wildlife crime prevention and detection has proved to be an effective tool and we are happy to be involved in this first of its kind programme in India.
TRAFFIC acknowledges its on-going partnership with the Dog Training Centre of the 23rd Battalion Special Armed Force, Madhya Pradesh Police Department based in Bhopal, for their continuous support for strengthening wildlife protection across the country.
---